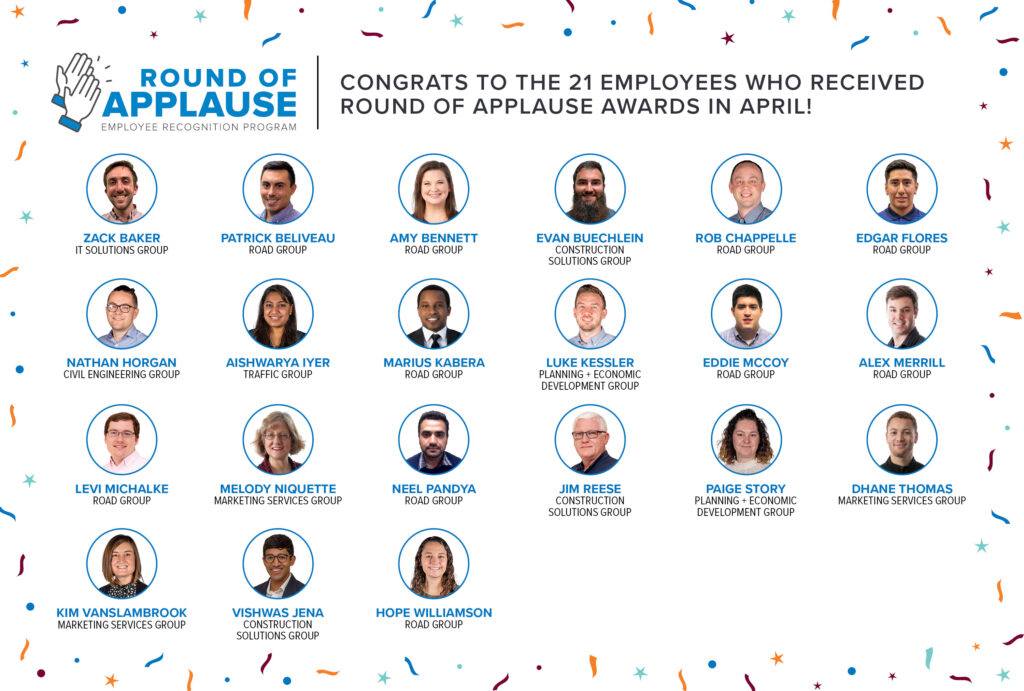 Congratulations to the 21 employees receiving Round of Applause recognition in April. Remember, it's as easy as 1, 2 ,3 to thank an employee for going the extra mile.
Start an email to [email protected]
Write a few sentences about what the person did and when.
Press send, and HR does the rest!
Zack Baker, IT Solutions Group,
Patrick Beliveau, Road Group
Amy Bennett, Road Group
Evan Buechlein, Construction Solutions Group
Rob Chappelle, Road Group
Edgar Flores, Road Group
Nathan Horgan, Civil Engineering Group
Aishwarya Iyer, Traffic Engineering Group
Marius Kabera, Road Group
Luke Kessler, Planning + Economic Development Group
Eddie McCoy, Road Group
Alex Merrill, Road Group
Levi Michalke, Road Group
Melody Niquette, Marketing Services Group
Neel Pandya, Road Group
Jim Reese, Construction Solutions Group
Paige Story, Planning + Economic Development Group
Dhane Thomas, Marketing Services Group
Kim VanSlambrook, Marketing Services Group
Vishwas Jena, Construction Solutions Group
Hope Williamson, Road Group