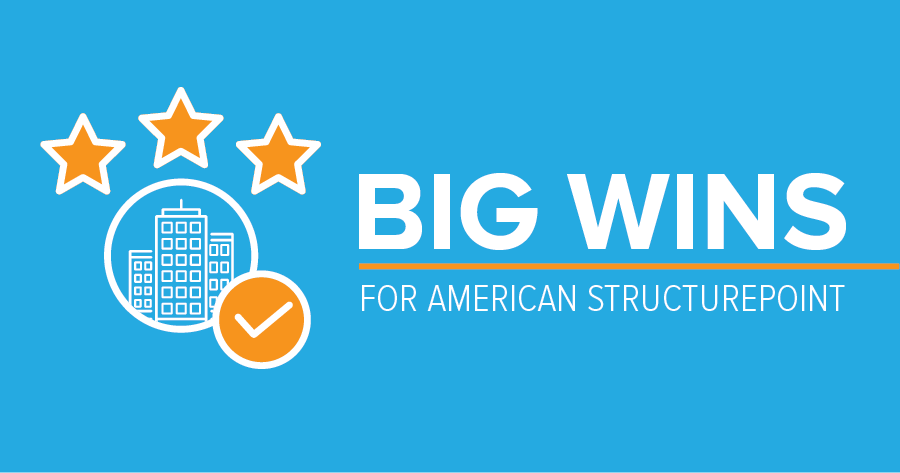 Since we had so much fun celebrating big wins in April, we decided to continue the celebration throughout the next several months. Here's a recap about big wins occurring in May.
Hendricks County Wastewater Treatment Plant Phase VI Expansion – American Structurepoint was selected with design-build partner Bowen Engineering for this project. It includes an innovative biological treatment process, optimized hydraulics and operations, and complex sequencing of construction. This is a strategic win positioning us for future significant alternative delivery projects in the utility world.
Indianapolis Academic Health Center for Indiana University – American Structurepoint is part of the winning Browning Day team for this project. We will be providing all the structural design for this facility that will be located just north of downtown Indianapolis, near Methodist Hospital.
Fiber Optic Installation, Elkhart Indiana – We will provide construction inspection services for installation of 63,000 lft of fiber optic lines, including 150 hand holes, among all Elkhart Community Schools. The lines will provide broadband service to 12 elementary schools, 2 middle schools, and 1 high school in Elkhart.
Hamilton Road, Columbus Ohio – American Structurepoint was selected for traffic analysis, preliminary engineering, and detailed design plans for roadway, storm sewer, shared-use path, street lighting, and traffic signals improvements to 1.5 miles of Hamilton Road on Columbus' east side. The work includes reconstruction and widening, curbs, sidewalks, shared-use path, storm sewer, street lighting, and traffic signals. This is the biggest project for the Columbus Department of Public Safety for 2020.
Tennessee Board of Regents SCC – This is a win for our Investigative group to investigate, recommend, and design modifications to prevent water intrusion occurring through the building masonry and windows on the Center for Business, Industry and Health building at Chattanooga State Community College in Chattanooga, Tennessee.
Kirlin On-Call – American Structurepoint is providing structural engineering, MEP, and architectural design services for John J. Kirlin Special Projects, LLC, a firm dissolving its MEP and architectural designers. The project will include multiple task orders completing several projects at federal government facilities throughout the US.