Four American Structurepoint projects are receiving ACEC Indiana Engineering Excellence Awards – with two projects taking the highest award and going on to compete at the national level! Read on for the details.
Bass Road Corridor Project – Honor Award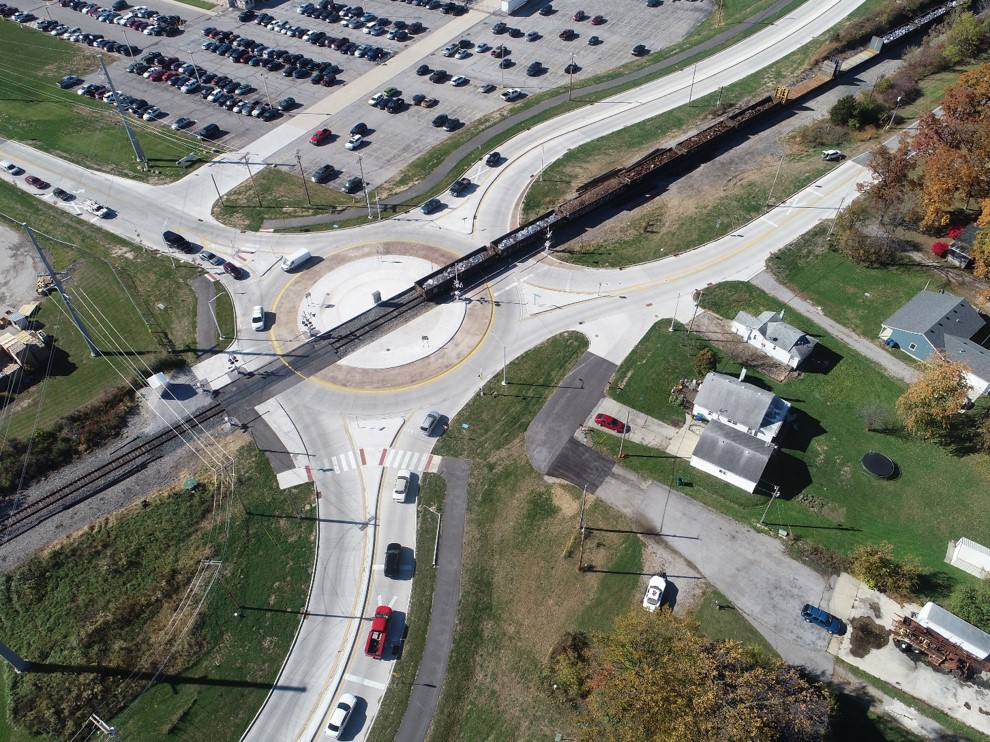 Our innovative roundabout design with a railroad crossing through it along the Bass Road Corridor in Allen County, Indiana received the highest award possible from ACEC Indiana. Our solution replaced a "K" style intersection that had two skewed railroad crossings. The project improved 4.5 miles of Bass Road and included one other roundabout, widening the Bass Road Bridge over I-69, a multi-use trail, new storm sewers, traffic signage, and curb and guttering. We also provided construction inspection services.
SR 37 Stormwater Drainage Line Project – Honor Award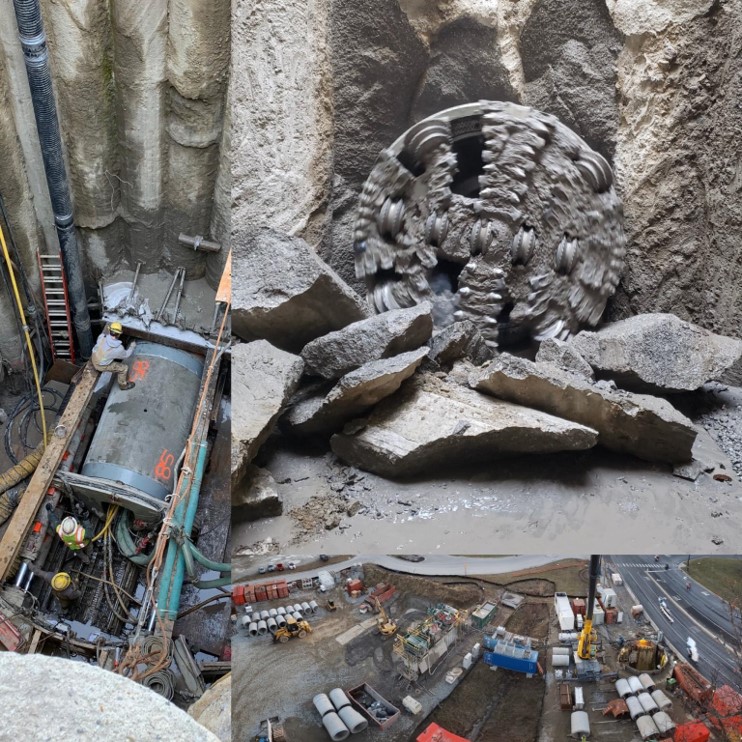 Designing two primary trunk lines to drain water from four interchanges along the SR 37 Corridor between 126th and 146th Streets in Hamilton County brought American Structurepoint another Honor Award. Reaching depths up to 40 feet, our design used trenchless tunneling methods rarely used in Indiana. The project included a record-breaking, 2,300-foot-long curved microtunnel boring machine run. American Structurepoint provided project and program management, hydraulic design and minor roadway design.
16 Tech Gent Avenue Corridor – Merit Award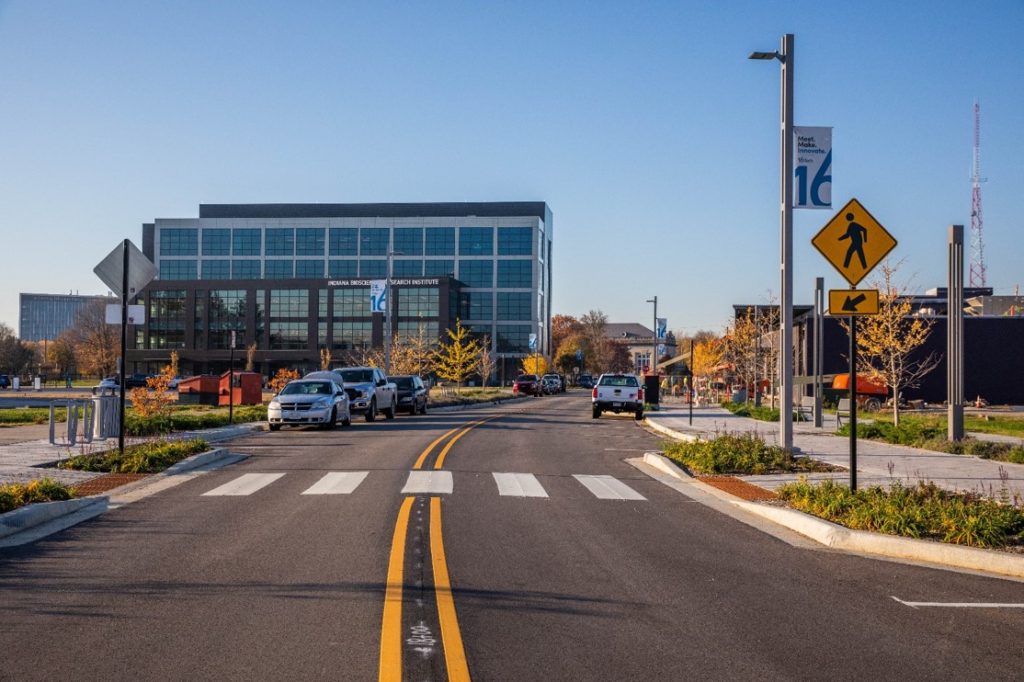 The Transportation Group provided roadway design, utility coordination, and project management services for the first new roadway in the 16 Tech Innovation District in Indianapolis. Extending Gent Avenue created an important thoroughfare within the district and opens multiple parcels for future development. The project included sidewalks, streetscape, and the first portion of the multi-use Tech Trail.
IU Simon Music Center Limestone Repairs and Roof Replacement – State Finalist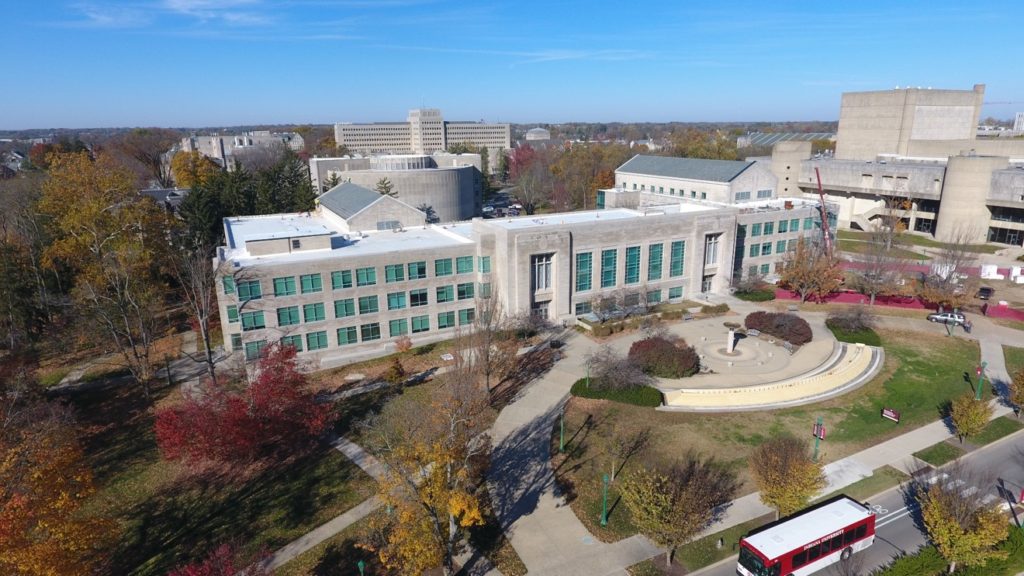 The Investigative Group's assessment and restoration of limestone veneer on the IU Simon Music Library and Recital Center at Indiana University Bloomington received a State Finalist award. Our structural engineers conducted a façade condition, recommended repairs and replacements, developed a plan for repairing/replacing the limestone and the steel and masonry backup structural elements behind it and oversaw the construction. The project also included replacing the aging roofing.