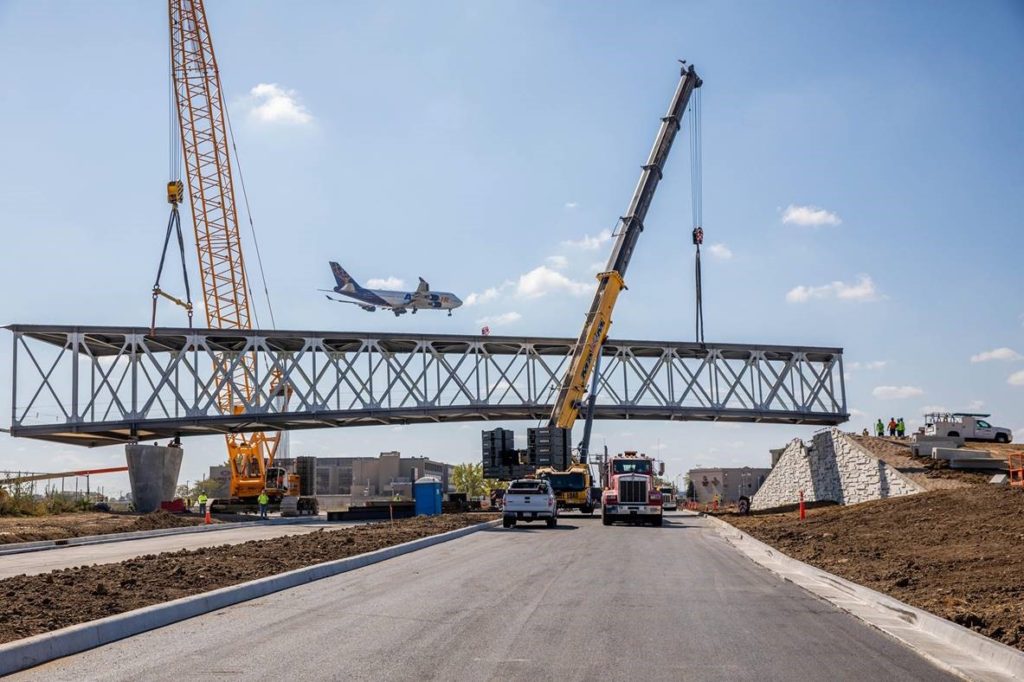 A superstructure for a new magnificent pedestrian bridge over High School Road, north of Sam Jones Expressway, in Indianapolis is now in place. American Structurepoint provided structural engineering services and served as engineer of record for the new pedestrian connector. We also provided construction solutions services. The new bridge will connect a renovated parking structure to the Infosys US Education Center campus under construction at the old Indianapolis International Airport property.
The structural steel and metal deck for the bridge was fully assembled on-site on the ground, and the approximate 120-ton structure was then lifted as one piece by two cranes and set in place. Thirteen American Structurepoint employees were there to witness the event: EJ Mehboob, Jerica Barlow, David Clark, Joe Dubyel, Andrew DeWilde, Rex Lonyo, Krista Lawson, Casey Lynch, Matt Moore, Kristina Mudd, Luke Nisley, Kate Oliver, and Ben Wagner.
Due to its unique skewed-arch geometry, curved plan, and tapered-elliptical bridge pier, this 195-foot bridge, comprising a 170-foot span and 25-foot cantilever, not only serves as a pedestrian connector, but also as an architectural statement piece for the new Infosys campus. Great job, everyone!