The Architecture + Interior Design Group believes in giving back to their profession in a big way through mentoring high school students interested in our industry. Here are two recent examples.
IHSADC 2017
The 2017 Indiana High School Architectural Design Competition Ceremony occurred May 5 in the Indianapolis Artsgarden. This competition is a great way to involve high school students in the architecture community, allowing them to practice their own designs and meet with successful architects. AIA explains the background of the competition as "each student is asked to design a mixed-use, urban food oasis, which is an urban infill project containing an urban farm, restaurant, and event center. This program asks entrants to explore designing through section, combining a multitude of uses in a single building, and to consider daylight and views in a tall structure." Three of our architects helped during the judging process to narrow down the competition for the final awards.  three
The top three prizes received $500, a certificate of excellence, a $500 scholarship to a summer architectural workshop, and a customized trophy, designed by our own Brandon Farley and Randy Robinson. Farley and Robinson worked hard to create a unique and chic trophy for the students. Farley designed the glass and mahogany structure while Robinson constructed it. Repro Graphix assisted with the glass printing, the metal was cut with a water jet, and it was all mounted on a mahogany wood slab. Check out the photo of their beautifully designed award.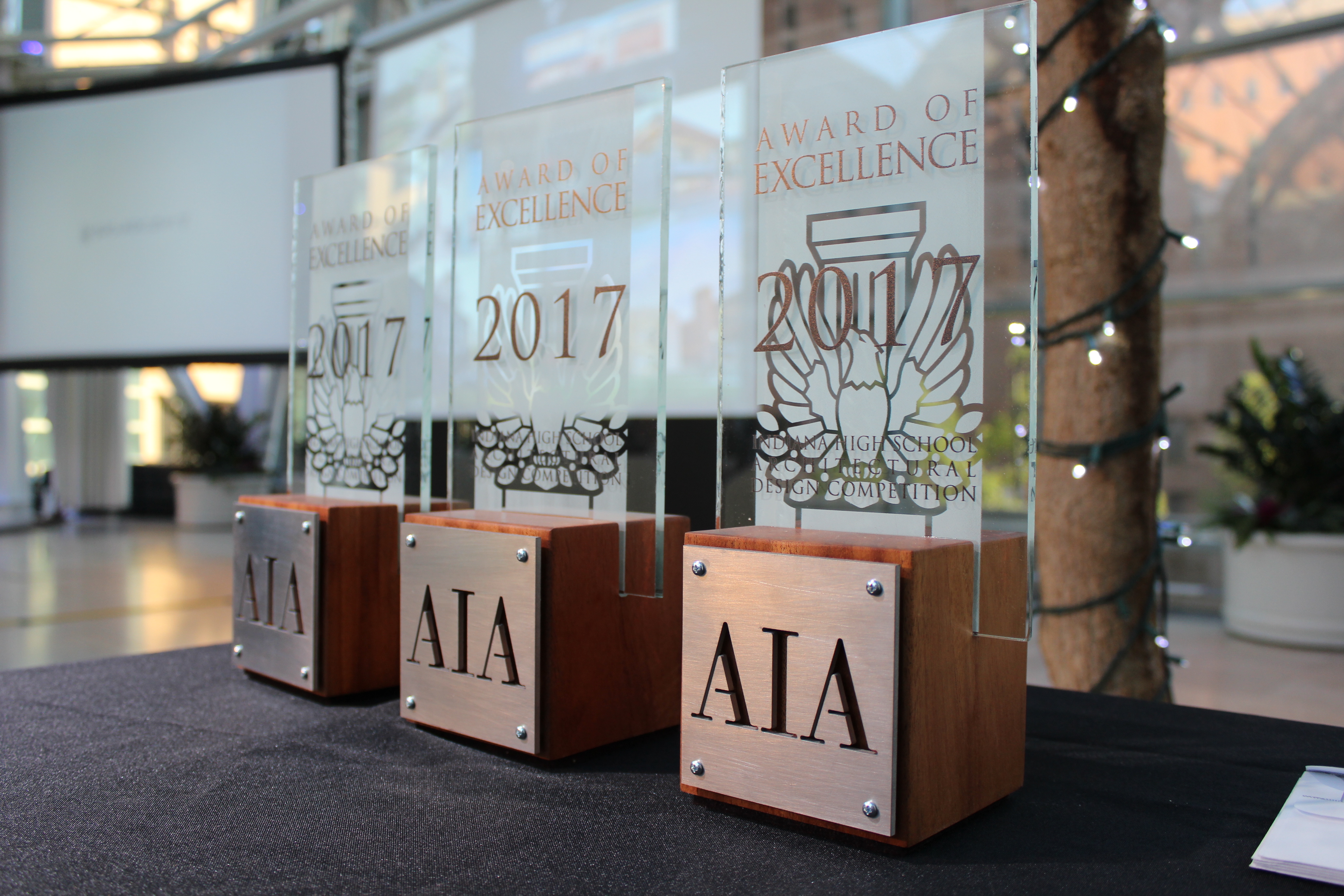 ACE Banquet
Following the end of a successful season, the ACE banquet was held on May 9 to award all of the students and mentors for a job well-done. Multiple American Structurepoint employees participated in the ACE program including Co-Team Leader Vanessa Shumate, and Mentors Kaitlyn Barrett, Joshua Cribelar, Justin Olashuk, Jess Pounds, Annemarie Riecken, and Anne Schneider. This group worked with students in the Metropolitan School District of Lawrence Township in Indianapolis.
This year, the ACE Mentor program challenged its students to design a new multi-purpose high-rise tower with both retail and residential markets. The site, formerly known as Market Square Arena, was previously home to the Indianapolis Pacers. Today, it will become 360 Market Square.
Special congratulations to Kaitlyn Barrett for receiving the Mentor of the Year award for her participation with the Lawrence Township team. And last but not least, Kaitlyn also received the well-deserved 2017 Emerging Talent Award from the Interior Design Coalition of Indiana.