Major Projects Update
June and the summer months are going to be quite busy throughout every group. This month I'm using my column to fill you in on some major projects that allow us to use or expertise and innovation skills to the maximum. I also invite you to read the article that appears later in the newsletter about some major Utility Infrastructure projects that are moving forward as well.
16 Tech Campus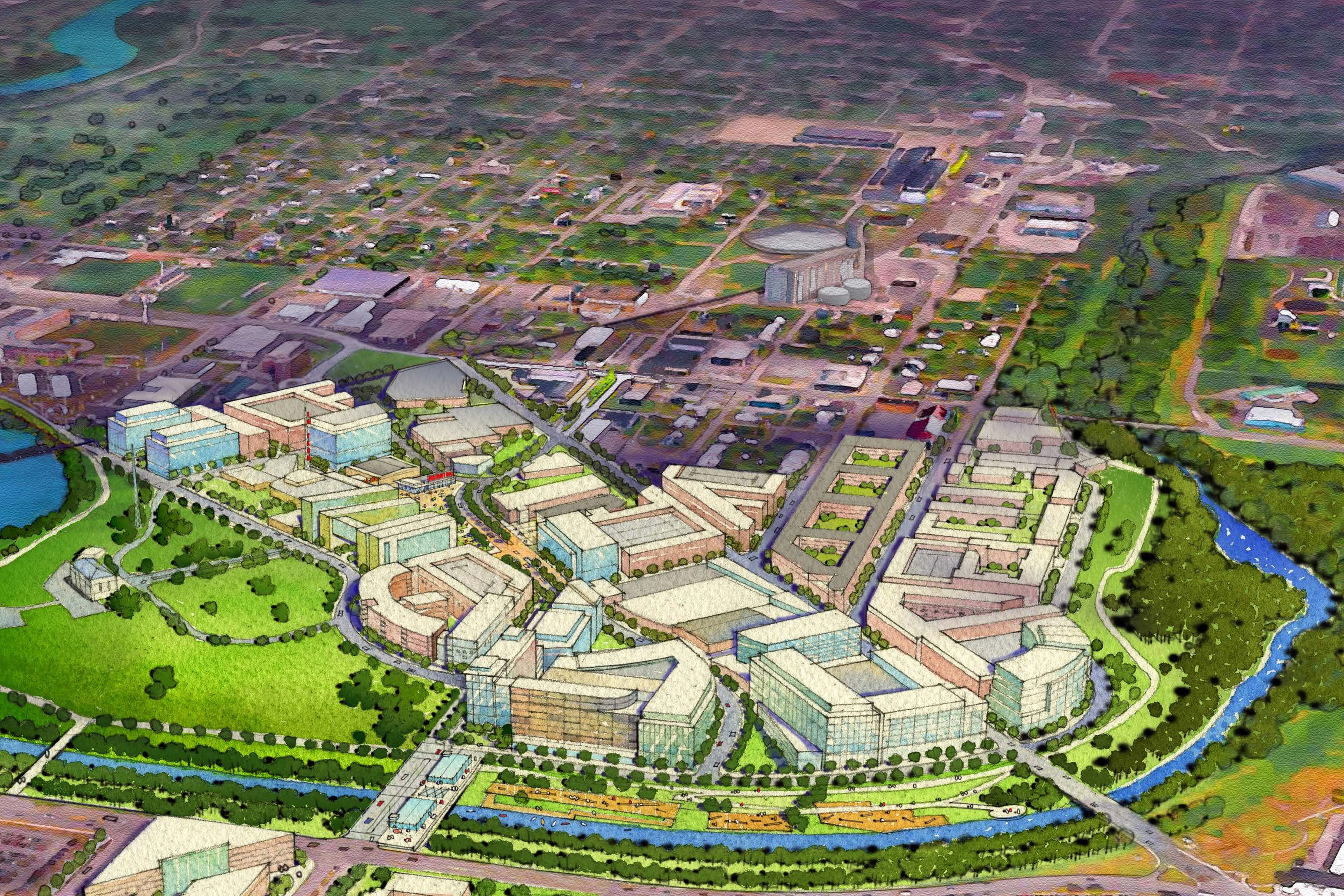 Rendering by 16 Techindy
16 Tech is a proposed 60-acre innovation community located near 16th Street, Indiana Avenue, Fall Creek, and the White River west of downtown Indianapolis. It includes live-work-play space to attract high-paying research and development jobs in the life sciences, technology, and advanced manufacturing industries. Our client is the 16 Tech Community Development Corporation. Along with the Indiana Bioresearch Institute, they are joining forces with the City of Indianapolis, non-profit groups, and big-name companies like Eli Lilly and Company, Roche, and Cook Medical, to make this vision become reality. American Structurepoint is responsible for the design of a multitude of infrastructure improvements, such as streets and a new bridge over Fall Creek. This project also includes moving underground water and sewer lines so that new, research-related laboratory, office, retail, and residential development can occur. This ranks as one of the most complicated projects in our 50-year history. Groups working on the 16 Tech project include Utility Infrastructure, Environmental, Civil, Survey, Transportation Road, Bridge and Construction Solutions.
SR 37 Corridor, Fishers
Much is happening to improve SR 37 from 126th Street to 146th Street as our staff is ready to help lead the charge. During the course of this project, we will be responsible for the design along the corridor along with managing no less than 23 consultants working on these roadway improvements.  "Keystone- Parkway-style" roundabout interchanges will replace signalized intersections in the corridor to improve the safety and flow of traffic. Survey and Environmental sub consultants are busy as they have started working along the corridor and our internal design team will begin their work as early as August. The next few years will be busy as we push toward the beginning of construction in late 2018.
Carmel Program Management
American Structurepoint is providing program management services for $144 million worth of projects in Carmel, Indiana, over the next three years. We will be the City's liaison to manage multiple consultants to deliver these infrastructure improvements with an aggressive schedule. Management services will include overall utility coordination, traffic services, on-call work and public outreach. We also have been selected to provide survey, design, and construction inspection services on various projects within the program. Construction  on the first projects will commence as early as this summer.
Chatham Hills, Westfield, Indiana
We have been involved from the start in preparing this multi-phased development covering 800 acres consisting of 1,000 single-family homes and a Pete-Dye-designed golf course. Our team has been involved as the lead designer in master planning the overall development. Our scope included land surveying services, environmental science and engineering services, and civil engineering services. Civil Engineering played a primary role in this development managing the client relationship and other disciplines. They prepared mass grading plans, preliminary platting, detailed site construction plans, hydraulic modeling, and local and state permitting. Our Civil Engineering Group also coordinated with the golf course designer regarding drainage, grading, site layouts, and utilities. Our Land Surveying Group conducted the topographic/ALTA survey, as-built surveys, and performed lot staking. The Environmental Group prepared all appropriate permit applications for wetland delineation and mitigation, and designed a sanitary sewer lift station, force main, and off-site water main extension. Construction on Section 1 consisting of 185 homes is now underway, Section 2 was just permitted, and we will start design work on Section 3 in June.