While community service is now a year-round endeavor at American Structurepoint, the program remains true to its roots as a Christmas project, with December marking some of our most intense fundraising and giving activities.
Our Spirit Week fundraising efforts brought back Pictures with Santa and Happy Hour with Santa, with Ken Olson in his debut as Slightly Bad Santa and Dennis Hutchinson as a veteran (and very popular) Santa for kids and pets. Thanks to Eric Farny who captured the shenanigans of the Slightly Bad Santa crowd and Greg Kicinski who lent his photographic expertise to capturing the child-like joy of visits with Santa. (One of Greg's photos of Santa (Dennis) with Amanda McCloughan's daughter, Maren, even made the newspaper in Hilton Head, where her proud grandparents live.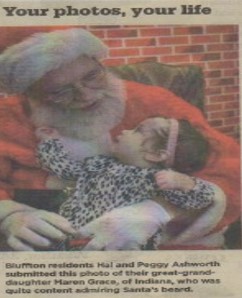 The bake sale was smaller than in previous years but still a big hit, with everyone looking for a dose of sugar and carbs to push through all the year-end project deadlines. We started raffle season at Happy Hour with Colts tickets and a night at the Westin as a small foretaste of the big action of Raffle Mania, where employees bought chances to win a wide variety of items—everything from liquor to bicycles to a chance to spend an hour with two vice presidents attempting to escape a locked room.
Below are the winners of the various prizes.
2015 Raffle Mania Winners
Instant Bar – Tom Leahy
Stop Your Wine-ing! – Dan Weekes
Three Floyds Brewing Company – Gannon Grimmer
Holiday Gift Sizzler – Kent Moore
Hot Toddy – Jordan Parks
Beer & Nuts – John Tucker
Pontoon Fun with Rick Conner – Michele Collins, John Kennedy, Patrick Ezeadikwa, Tom Polster
Night out with Greg & Martha – Dave Day, Mara Scales, John Kennedy, Rich Zielinski, AJ Edwards
Bullseye with Cash – Bryan Potter, AJ Edwards, Mike Steffy, Will Lyon, Aaron Grady
Turkey, Turkey, Turkey – John Kennedy, Rachel Uthe, AJ Edwards & their guests
Pickle Your Peddler! – Michelle Schmaltz, Bri Hope, John Nail, Danielle Keys, Rachel Uthe
It's Your Day – Joey Gee
A Night at Binkley's – Rory Clouse, John Kennedy
The Great Escape – Ben Bontrager, Michele Schmaltz, Margaret Kantz, Michele Collins, Briana Hope, Erin Cotant
Add Some Color! – Marietta Griffith
Whine with Your Cheese – Ben Braun
Mystery Gift – Darwin Acord
Renew, Rejuvenate – Kelsey Davis Morton
Get Goosed, Senor! – Luke Kahren
Pork Belly – Jordan Parks
An Apple a Day … – Greg Clayton
Hello, Anyone Home? – Greg Clayton
Go Team! – Rich Zielinski
Boy, let's go biking! – Kevin Gorak
Girl, let's go biking! – Randy Robison
Home Décor – Elyse Fenneman
Dick's Gift Card – Mike Smith
Can Take it with You – Greg Clayton
Hola-ta Margaritas – Scott Sumner
Fore! – John Kantner
Eagle – Brittany Heidenreich
Paisley Looks Good on You – Scott Scoville
Perfect Sentiments – Mara Scales
Go Colts! – Max Rehlander
Let's Get Physical – John Kennedy
Wax on, Wax off – Jordan Parks
Sweet Tooth – Bri Hope
Oh Schnapps! – Kesley Davis Morton
One cup or four? – Liz Kokosinski
Get the Party Started – Stephanie Sanders
Shop til you Drop – Kristina Davis
Look Sharp – Bianca Zaklikowski
Boom Baby! – Jess Pounds
Boom Baby! – Bryan Potter
Unrivaled after all these years – Joe Griffith
Not Going to the Holiday Party? – Larry Bohannon
Gentlemen Start Your Engines – Jordan Parks
Smile! – Mike Steffy
Center of Attention – Antra Boyd
Indulge a Little – Carol Keiter
Believe – AJ Edwards
Many thanks to the officers, employees, and vendors who contributed 100 percent of the raffle items and food so that 100 percent of the proceeds could go directly to the families and organizations supported by Community Service. We capped off fundraising by bringing back the 50/50 sweepstakes at the Holiday party, where Mike Slocum took home the big prize of $1,000.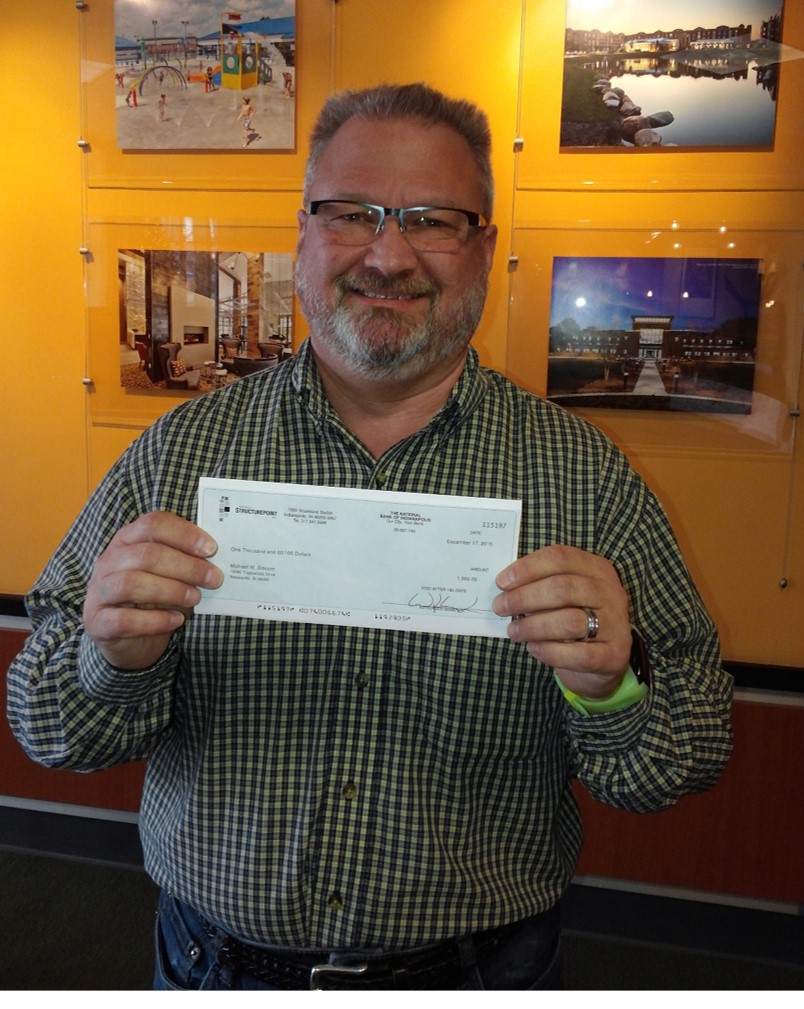 Proceeds from all of the spirit week activities brought in $8,361.17, which was matched by the company for a total of $16,722.34 that we quickly sent back out into the community to spread holiday cheer to the communities where we live and work. Our merry band of shoppers, wrappers, and deliverers got to work and accomplished a lot in a very short time.
Volunteers assisted DREAM Alive scholars with their own philanthropic endeavors, helping them to purchase and wrap gifts for underprivileged families and throw a party for the recipients at the Colts training facility.
We adopted 5 families (5 moms and 13 kids) from the Julian Center, providing two complete outfits and toys for each child, plus gift cards for the moms. Each family included at least one special-needs child.
The Indy office purchased and delivered gifts for 20 individuals from United Christmas Services.
Employees from the Columbus office provided gifts for 24 kids from St. Vincent Family Center.
In the Highland office, employees purchased and delivered gifts for 15 children at Lake Ridge Head Start in Gary, Indiana.
As in years past, we purchased clothing and small personal items for wards of the state at Spring Mill Meadows Nursing Home in Indianapolis and donated $1,000 to St. Augustine Home for the Aged, which serves the poor and elderly.
We purchased 50 toys for the Christmas party at Riley Hospital/Ronald McDonald House.
We also provided assistance to several families that were recommended by employees.

Gifts and gift cards to 5 families headed by single moms, one of whom had just gotten into public housing after being in a shelter for several months.
Gift cards for another family who had recently adopted 3 children after their parents died.
Financial support to two families struggling with medical expenses and utility bills.
Household items and gifts for a family who lost everything in a house fire.
Our branch offices were represented by $1,000 gifts to organizations within their communities made by Community Service, including:
Austin office – donations to Children at Heart Ministries, Communities in School, and Ronald McDonald House
Charlotte, Chicago, and Nashville offices – donations to local Ronald McDonald Houses.
Evansville office – donations to Ronald McDonald House and Evansville Rescue Mission
South Bend office – Mishawaka Food Pantry
Fort Wayne – St. Mary's Soup Kitchen
Terre Haute – Vigo County Casa Kids
West Lafayette – Lafayette Urban Ministries
All of this (plus a few more families who will receive help in January) was made possible by all the folks who donated raffle items, bought raffle/sweepstakes tickets and baked goods, and contributed through payroll deduction. They were aided by dozens of volunteers who braved the malls to shop for people they'd never met, and who spent lunch hours, late evenings, and early mornings wrapping and delivering gifts right up until the office closed on Christmas Eve. Thanks also to everyone who lifted spirits around the office by participating in Spirit Week—wearing ugly sweaters, taking a breather to watch classic animated Christmas specials, and contributing pictures of Christmas past. We thank all of you for your contributions of time, talent, and treasure. We know it was occasionally hectic (maybe even chaotic), and we couldn't have done it without each and every one of you!