November Community Service Wrap-up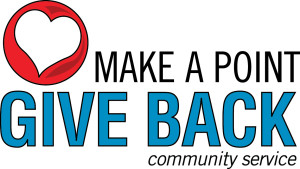 $500 – Team Red White & Blue – in support of an organization that is enriching veterans' lives by connecting them to their communities, Austin office
$153 – Dublin Food Pantry – food and matching funds from November food drive, Columbus office
$340 – Café Manna – monetary donation from staff and matching funds for November food drive in support of local soup kitchen, Highland office
$725 – Front Porch Alliance – in support of Pack the Pantries November food drive, Indy office
$500 – Dream Christmas – adopted one family for upcoming Dream Christmas event, Indy office
Cards for Veterans – approximately 50 Thank You cards sent to local VA hospital in honor of Veterans Day, Indy office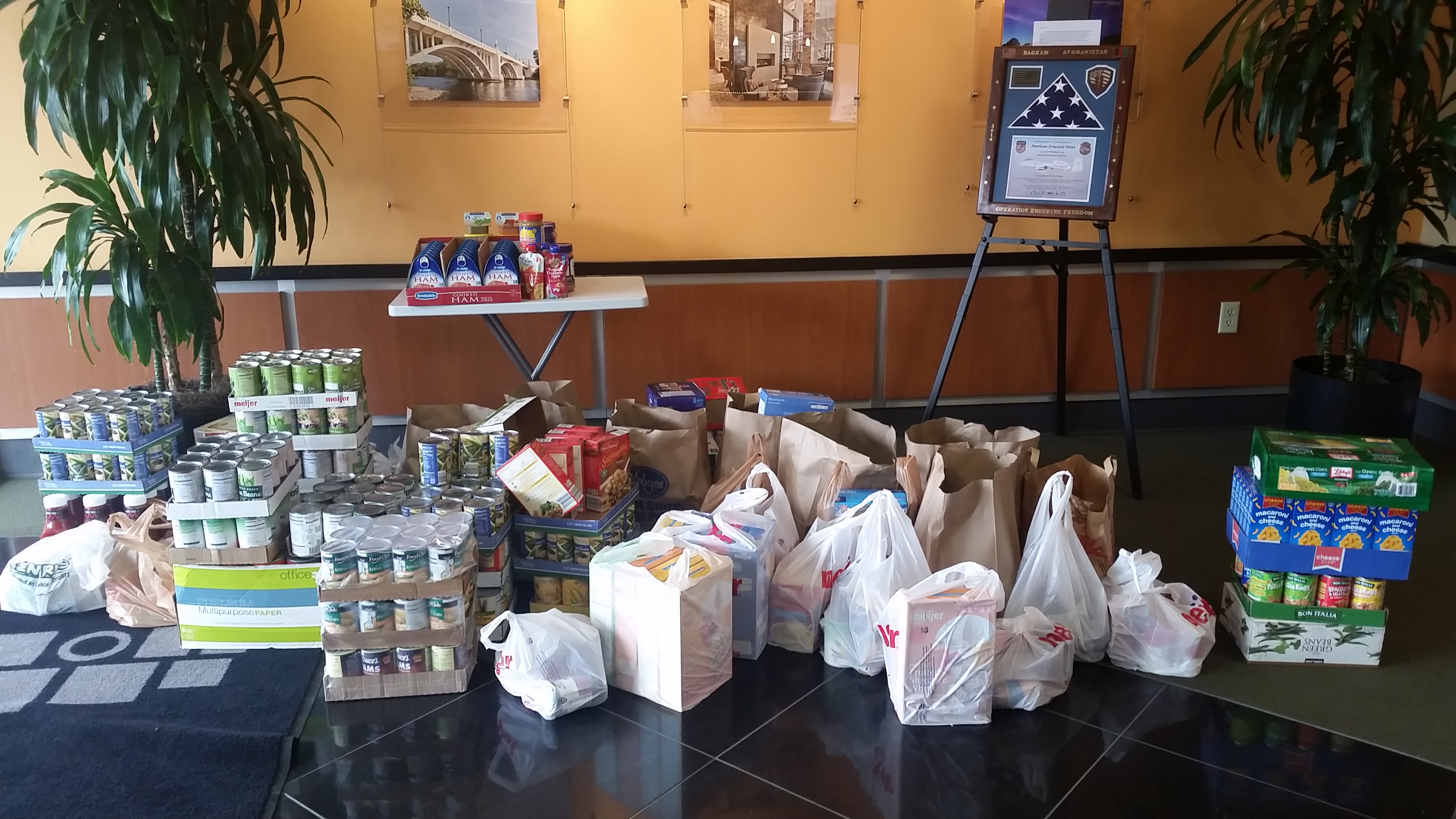 The annual food drive just concluded as a record year totaling $1,048.36 worth of donations! The company match was applied for all donations, and Melody Niquette was the winner of the $50 gift card. Thank you to our generous staff who participated in this year's annual food drive. Multiple offices participated:
Indianapolis – These donations will go to Mayor Ballard's Pack the Pantries campaign and will be distributed to area food pantries and soup kitchens by Gleaner's Food Bank.
Columbus – These donations will go to the Dublin Food Pantry.
Highland – In lieu of collecting cans, staff passed the hat and collected cash. The recipient of their donations is Café Manna, a soup kitchen in Valparaiso.
The Dream Alive Scholars visited our office on Monday, November 30th for the annual wrapping party. Twelve students from Harshman Middle School wrapped Christmas presents that were purchased during a recent shopping trip.  Many thanks to our volunteers who shopped with the students on November 17th and those who assisted the students wrapping presents on November 30th.    The students will give their presents during the Dream Christmas event, which is on December 7th at the Colts Complex.  Don't forget to sign up as a volunteer!  Click HERE to sign up on Dream Christmas website.
December Activities
December is here and that means Community Service is kicking it up a notch or two.  Don't miss out on the Spirit Week events or the days leading up to it.
Thursday, December 3rd – Decorating the lobby beginning at 5:00 PM. Contact Michele Collins at x2215 to volunteer.
Friday, December 4th – Happy Photo Hour with Santa from 4:30 to 6:00 PM. Raffle for Colts tickets, Westin package.
Saturday, December 5th – Pictures with Santa – Fun for friends, families & pets. . Sign up here: T:\Community Service\Community\_Sign-up Sheets\Pictures_with_Santa 2015.xlsx.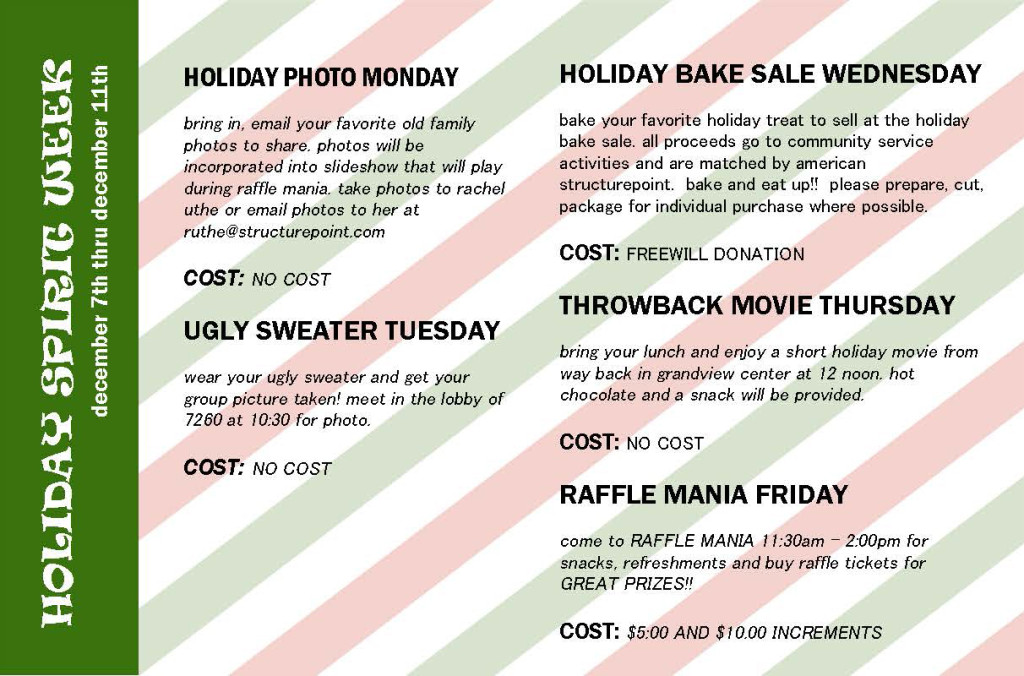 Community Service provides holiday gifts and services for many families in need. The need is always huge this time of year.  The funding for these gifts comes from our generous payroll donors as well as the various fundraising events including both Santa events, the holiday bake sale, and proceeds from Raffle Mania, as well as the 50/50 Sweepstake at the Holiday Party.  Your participation is encouraged and greatly appreciated!
Families will be adopted from United Christmas Service, the Julian Center, Children's Bureau Hope for the Holidays, Indiana Department of Child Services, St. Vincent (Columbus), and Kidz4Kidz (Highland) to name a few.  We will also adopt residents of a nursing home and provide gifts for the Christmas party at the Indianapolis Ronald McDonald House for children who are patients at Riley Children's Hospital.  Soup kitchens, food pantries, and schools will also be helped.  Each office and its surrounding area will be supported either through gifts or a monetary donation.
We need volunteers to be project managers in charge of organizing other volunteers as well as volunteers to do the shopping, wrapping, and delivery of gifts for the above-described activities. Sign up here: T:\Community Service\Community\_Sign-up Sheets\_Volunteer List 2015.xlsx.
If you want to suggest a project for Community Service, please send your suggestion to communityservice@Structurepoint.com.  A committee member will contact you to follow-up.