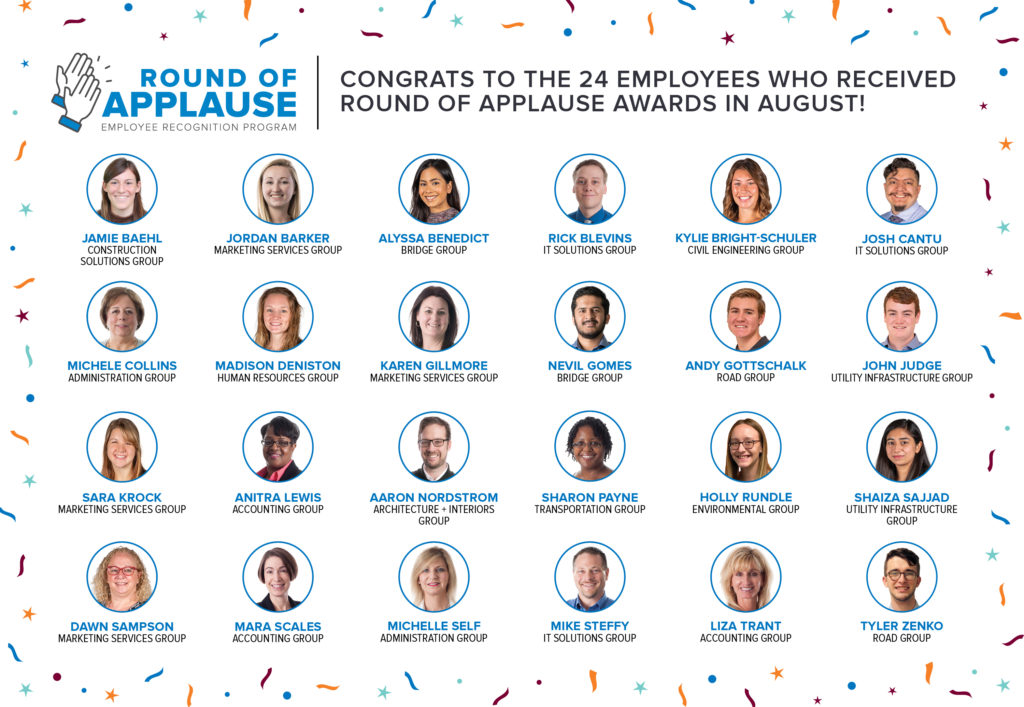 Here's a salute to the 24 employees receiving Round of Applause recognition in August. Remember, it's as easy as 1,2,3 to thank an employee for going the extra mile.
Start an email to roa@structurepoint.com.
Write a few sentences about what the person did and when.
Press send, and HR does the rest!
Jamie Baehl, Construction Solutions Group
Jordan Barker, Marketing Services Group
Alyssa Benedict, Bridge Group
Rick Blevins, IT Solutions Group
Kylie Bright-Schuler, Civil Engineering Group
Josh Cantu, IT Solutions Group
Michele Collins, Administration Group
Madison Deniston, Human Resources Group
Karen Gillmore, Marketing Services Group
Nevil Gomes, Bridge Group
Andy Gottschalk, Road Group
John Judge, Utility Infrastructure Group
Sara Krock (2), Marketing Services Group
Anitra Lewis, Accounting Group
Aaron Nordstrom, Architecture + Interiors Group
Sharon Payne, Accounting Group
Holly Rundle, Environmental Group
Shaiza Sajjad, Utility Infrastructure Group
Dawn Sampson, Marketing Services Group
Mara Scales (2), Accounting Group
Michelle Self, Administration Group
Mike Steffy, IT Solutions Group
Liza Trant, Accounting Group
Tyler Zenko, Road Group