The need for personal protective equipment (PPE) and masks for our staff and healthcare workers presented employees with opportunities to give back. Keep reading for info on how we are pitching in to help when needed.
Making Masks for Our Field Staff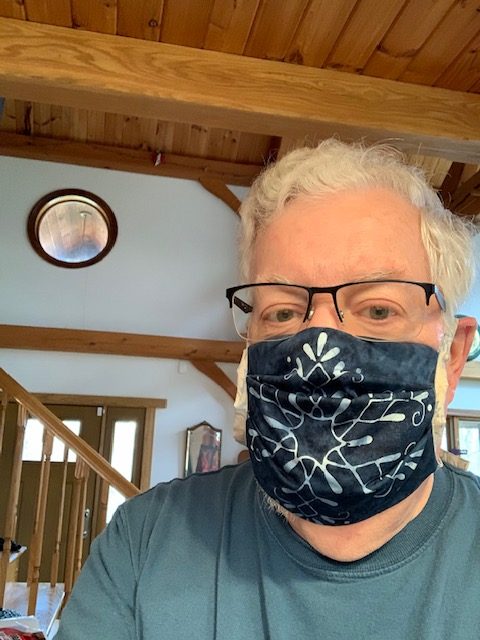 When early social distancing requirements called for masks for field staff, most businesses couldn't find any to buy. Technical Director Cindy Fort and Executive Assistant Michele Collins headed to their sewing machines to create masks for our staff. Cindy downloaded a pattern for pleated masks from the internet and started sewing. She used quilting scraps for her first batch of masks. Her second batch of masks came from big pieces of fabric she bought for a "someday" quilt, but making masks to protect our people seemed like a much better use. Cindy's husband, Construction Solutions Engineer Webb Bernhardt, no sewing slouch himself due to fabricating camping gear, pitched in to help. The dynamic mask-making duo made about 100 masks for Construction Solutions and Utility Infrastructure staff, as well as Director of First Impressions Melody Niquette. Cindy's sister, Evelyn Steensen, also contributed to the cause, making 10 masks that were mailed to the Columbus design center for field staff.
Michele downloaded four different patterns from the internet for her masks. She made 30 masks for Construction Solutions staff and several more for people she knew needed them outside of the company. All the versions Michele sewed featured a filter pocket to give the recipient an extra layer of protection.
Supplying PPE to Healthcare Clients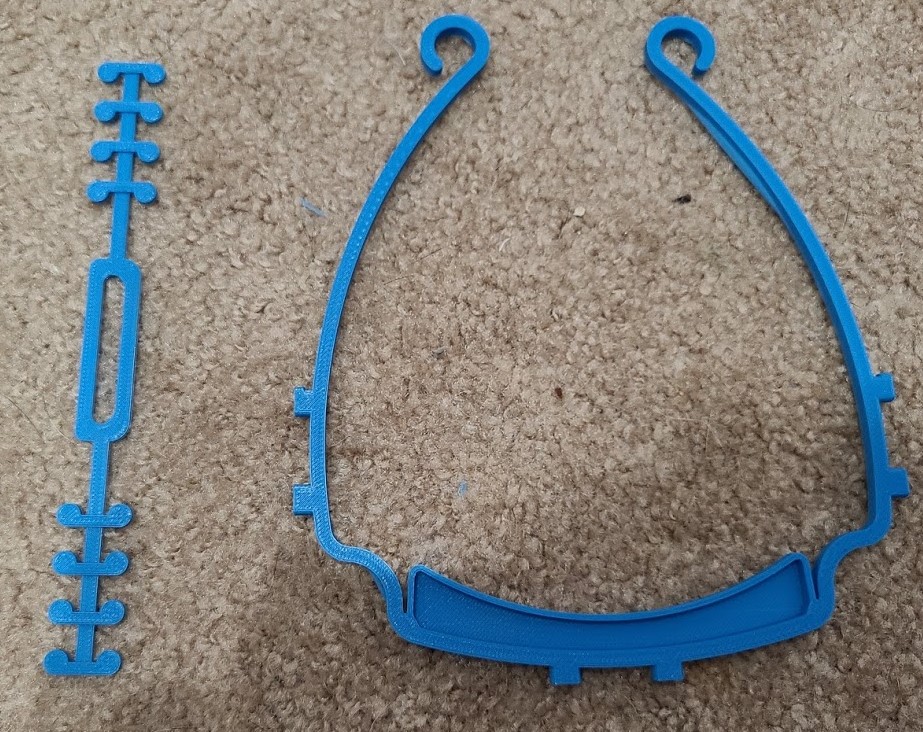 Whether you believe in serendipity, kismet, or Godwink moments, several forces came together simultaneously for American Structurepoint to produce ear guards and face shields for healthcare workers. Desktop Support Technician Simon Alfrey of our IT Group and the Architecture + Interiors Group joined forces to make and print PPE that are being donated to healthcare clients. Simon initially used a personal 3D printer to make ear guards for masks and face shields for healthcare workers. Meanwhile, Graphic Designer Jordan Barker read an article on Facebook about a Canadian Boy Scout who used a 3D printer to make ear guards for nurses. Jordan knew the Architecture + Interiors Group had a 3D printer and asked Marketing Services Group Leader Julie Kost if the printer could be used to make ear guards for healthcare workers as a way to give back to the healthcare community. Julie emailed the Architecture team, which led to that team seeking IT's help in figuring out how to use their 3D printer, typically used to make building models for clients, for printing PPE.
A partnership was born. Simon prints ear guards and face shields at his home, the Architecture + Interiors team uses its printer to make ear guards and face shields, and Business Development Director Carrie Sermersheim delivers the final products to healthcare facilities. To date, Carrie has delivered 100 ear savers and 50 shields to Community Health Network as well as several other healthcare providers and hospitals in central Indiana. "Our donations of PPE have been very well received. We can't print them fast enough," Carrie said.
Sewing Fabric Headbands for Nurses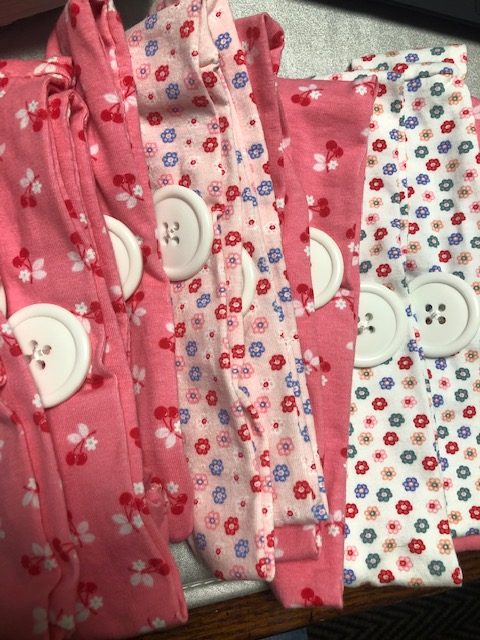 Accounts Payable Specialist Sarah Johnson put her sewing skills to work making fabric headbands with buttons for nurses in the New Palestine/Greenfield area. Sarah saw several nurses commenting on social media that mask straps were hurting their ears. Sarah ordered fabric and buttons and got busy, working her way down a list of people who had commented. Each headband features a large button on each side so that surgical mask straps loop around the buttons instead of sore ears! Soon Sarah was receiving requests for her "heady" designs, with some nurses requesting up to 10 headbands for their coworkers. Sarah obliged and created the headbands at no charge. Several thankful headband recipients left donations to pay for fabric on Sarah's front porch when they came to pick up their orders waiting for them in Ziploc bags. Sarah estimates she made about 75 headbands. "This has been such a rewarding project, knowing that I was able to help, even if just a tiny bit," Sarah says.