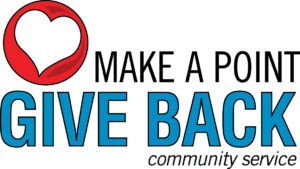 The Community Service fund received payroll contributions totaling $3,163.50, and the company match brought us to $6,327.00 in incoming funds for the month of October 2019. We have 133 employee contributors! The funds are used to assist organizations recommended by our staff.
Commitment forms are available via Pinnacle if you would like begin contributing, or to change your existing commitment. If you have a suggestion for an organization that could use a boost of volunteers or a financial contribution, please share it with the Community Service Board. A donation request form is available via Pinnacle.
Recent Donations
Homeless Outreach Team – The Homeless Outreach Team has been in operation in the Evansville-Aurora area since 1998 providing care, supplies, and services to those living on the streets and in shelters. This team is responsible for engaging the homeless wherever they are in the Evansville-Aurora community. Each week the team travels to the streets and shelters to give supplies such as food, hygiene products, socks, underwear, blankets, and clothing. A $500 donation was sent to the organization, recommended by Mark Tuley (Evansville design center, Business Development).
Laps and Lagers Winners – Gleaners Food Bank received a $300 donation from the combined winnings of first-place finisher Derrek Day (Indianapolis Bridge team) and third-place Miles Demerly (Indianapolis Road team). Gigi's Playhouse Indy received $150 at the direction of second-place winner Luke Kahren (Indianapolis, Business Development).
Upcoming Activities
DREAM Christmas – We're joining DREAM Alive again this year to brighten the holidays for Indianapolis-area families in need. Volunteers will be needed for three different events within the program.
Shopping with the Scholars will be on Tuesday, November 19 and Wednesday, November 20 from 4 to 5:15 p.m.
A wrapping party will be hosted in our office on Tuesday, December 3 from 3 to 4:30 p.m.
The 15th Annual DREAM Christmas Celebration will be held on Wednesday, December 18th from 5 to 9 p.m.
Santa Claus will visit our Indianapolis headquarters on Friday, December 6 from 4:30 to 6 p.m. for an adults-only event, Happy Hour with Santa. Donations from this event will be used to purchase toys for patients at Riley Hospital for Children. Santa returns to the office on Saturday, December 7 from 10 a.m. to 3 p.m. for a Photos with Santa event, featuring photo opportunities for kids of all ages.
Holiday Mania returns on Friday, December 13. Electronic shopping options will be available for those who can't attend in person. If you'd like to donate an item or service to the Holiday Mania event, please fill out the commitment form by November 11 or contact a Community Service board member.