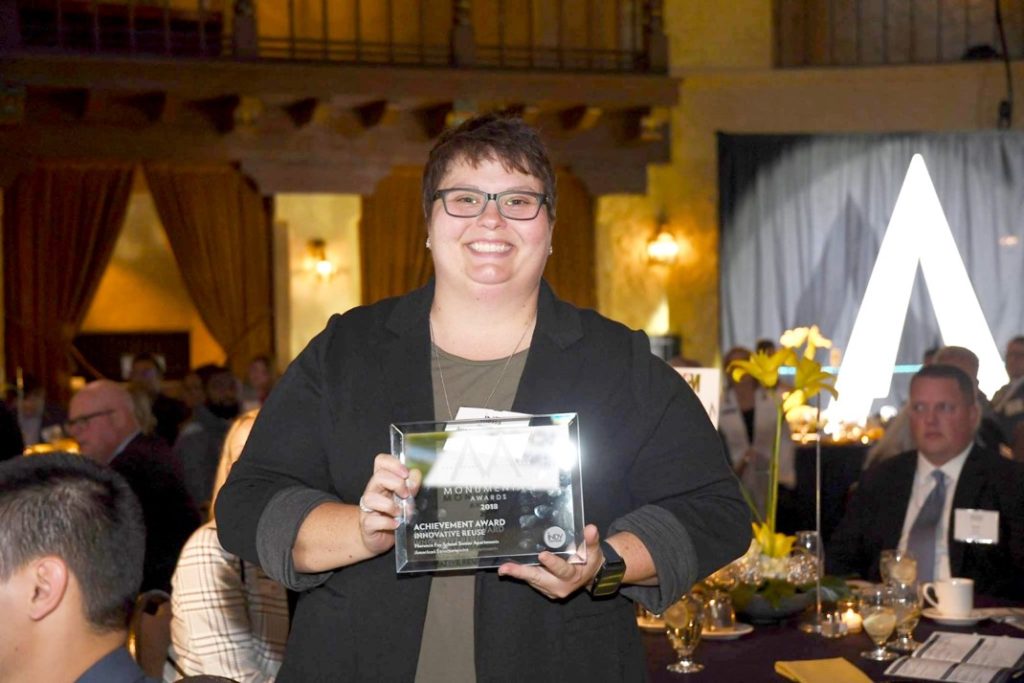 American Structurepoint projects continue a three-year Monumental Awards winning streak – we took home two prizes in the 2018 competition sponsored by the Indy Chamber of Commerce. The Florence Fay School Senior Apartments received an Achievement Award in the Innovative Reuse Category while the BlueSky Technology Partners Corporate Headquarters received a Merit Award in the Construction Category.  For Florence Fay, our architects, interior designers, and civil and structural engineers collaborated to transform an abandoned school building into an affordable senior housing facility with 73 apartment units. Vanessa Shumate accepted the award for American Structurepoint at the  ceremony.
BlueSky Technology Partners Headquarters
BlueSky corporate headquarters has now won three awards. It most recently won an Award of Excellence in Construction from the Associated Builders and Contractors, Inc., Indiana/Kentucky Chapter. Last year, the project won a State Finalist Award in the structural systems category from ACEC Indiana.
Our previous Monumental wins
Last year, the Eagledale Senior Apartments in Indianapolis won a Merit Award in the Innovative Reuse category. The project restored the Flackville School 100 building into a beautiful senior apartment complex with 65 apartments. In 2016, American Structurepoint took home three major awards.  Our redevelopment master plan for the Main Street corridor in Speedway received the Neighborhood Revitalization Award and the Monumental Award, the event's highest honor. We also won the Engineering Award for the 16th Street/Crawfordsville Road/Georgetown Road roundabout. Congrats to everyone who contributed to all these wins since 2016!