American Structurepoint employees once again showed their generosity in giving to hurricane relief. In fact, at least three employees took active roles in providing supplies to hurricane–stricken areas. Read on for all the details.
Company hurricane relief drive nets $20,000
In response to the devastation from Hurricanes Harvey, Irma, and Maria, American Structurepoint employees were invited to contribute to Matthew 25: Ministries or Catholic Charities of the Archdiocese of Miami and Galveston-Houston or to another hurricane relief charity of their choice. In all, 78 people made contributions, including six employees who contributed twice during the campaign. We even received a donation from Lester, a woman from our cleaning service who stopped Dan Weinheimer to give him $10 for the hurricane relief campaign. She said that she wanted to donate her money at American Structurepoint since we were matching the donations.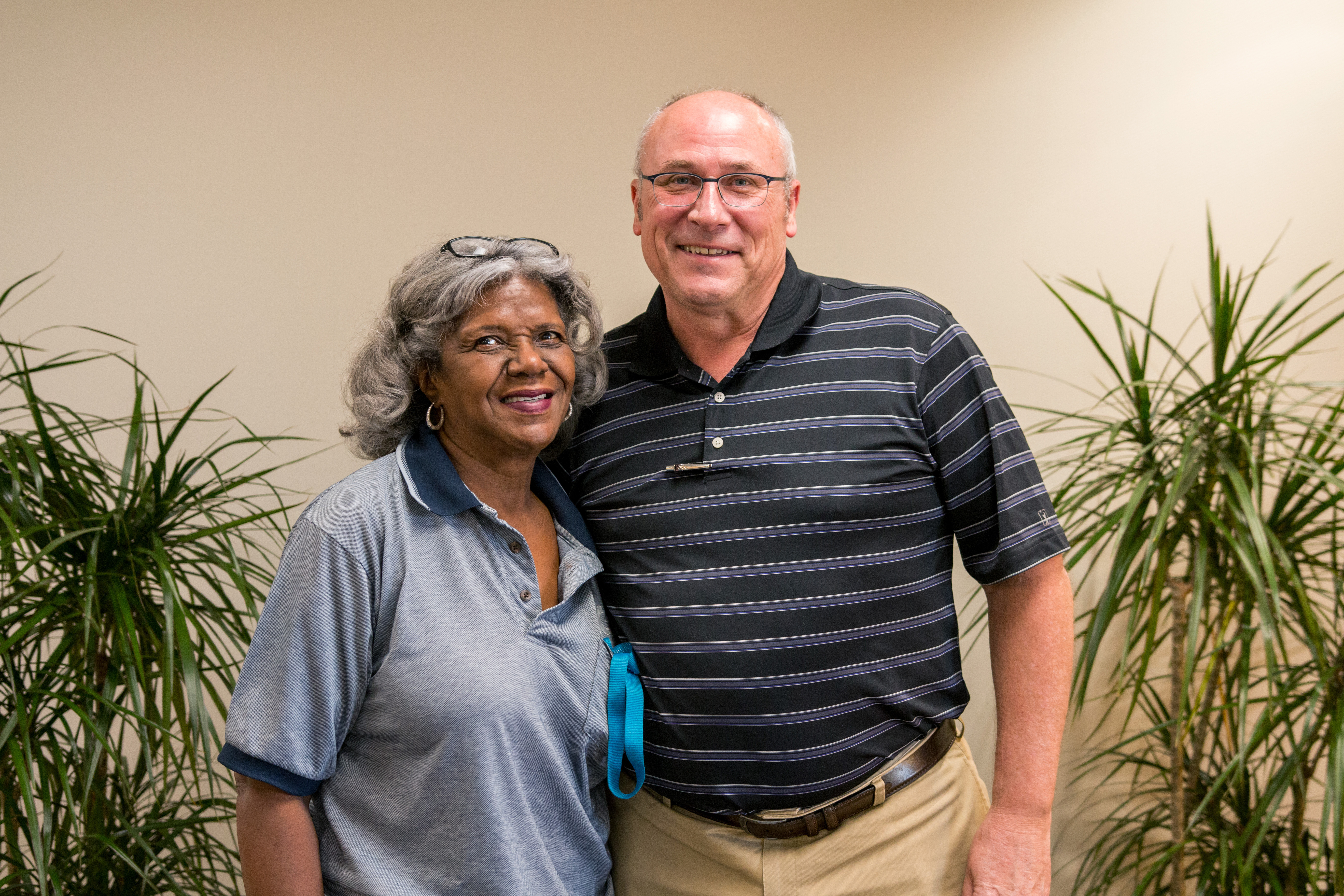 At the campaign's mid-way point, staff donations amounted to $4,370. With one week to go, the amount was $6,096.  With one day remaining, the donation level was $8,183 and by the end of the campaign, $10,000 had been donated to the 19 different relief campaigns benefitting survivors in Texas, Florida, and Puerto Rico. Rick Conner then doubled the donations, splitting the match money equally between Matthew 25: Ministries and Catholic Charities, which brought the campaign total to $20,000! Thanks to everyone who contributed – together we made a difference!
But wait, there's more! The GiveBack Committee decided to support families affected by both storms with an additional donation of $5,000 from our existing funds to Modest Needs. Modest Needs helps families who may not have lost their house due to flooding, but who lost income due to work being closed or incurred unexpected expenses such as paying an insurance deductible or making smaller home repairs. These losses generally aren't covered by FEMA or other insurance, and while they may be relatively small – typically several hundred to a few thousand dollars– the help can be enough to keep a family that was already struggling from going over the edge into homelessness. The program also frees up funding that major relief agencies can then allocate to families who need substantial, ongoing assistance.
Employees deliver donations, too – Matt Wright's story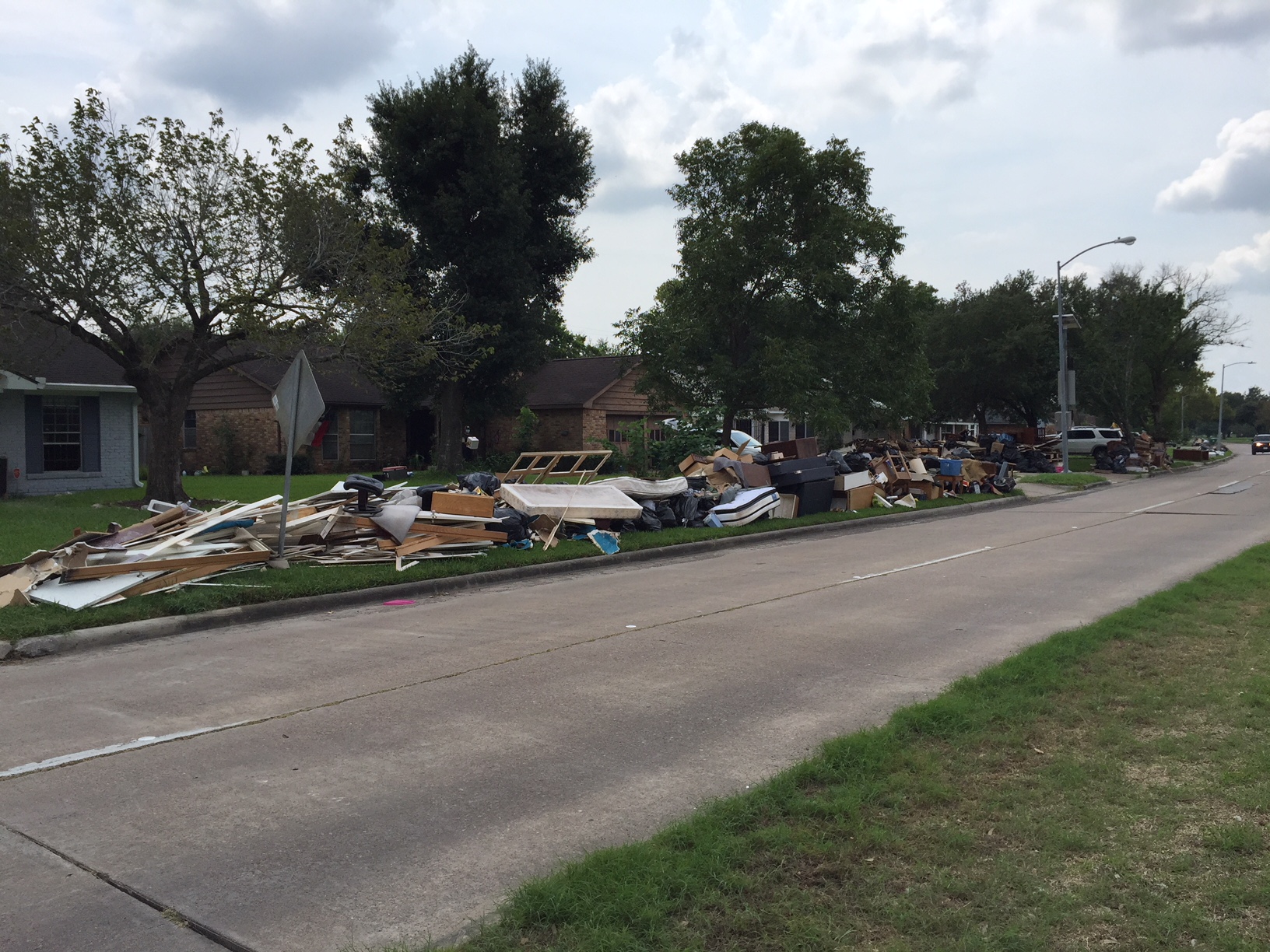 Design Associate Matt Wright traveled to the Houston area to help bring baby supplies and to provide clean up/demolition assistance to friends whose house had been flooded. Thanks to the generous contributions from friends and family, Matt was able to replace most of the items his friends needed for the baby along with a large supply of formula and diapers. He also stayed to help his friend gut the home down to the studs, run dehumidifiers to reduce the moisture, and eventually spraying to abate and prevent mold growth.
Matt says, "Even with the images prevalent on the news and social media, the extent of the damage is difficult to comprehend unless you see it in person. It is hard to see the homes while driving because the mounds of trash are often higher than the car you are driving.  One positive take away was the generosity of not only those that helped with baby items and supplies, but also other organizations in Houston that were delivering hot food and cold water to houses each day in the hardest hit areas."
Brandon Kelley's story
Columbus Crew Chief Brandon Kelley wants everyone to know that anyone can make a difference in this world, no matter how daunting the task may seem. Brandon and his wife, Laura, should know because they successfully secured donations of 50 cases of water and other supplies that they personally drove 2,240 miles round trip from Bellefontaine, Ohio to help Florida hurricane victims. Brandon humbly points out he doesn't deserve all the credit – lots of people and groups, including American Structurepoint, came together to help people in need. "This was truly a group effort. It was great to see what we accomplished with help from people we know and work for. We were just the first step in the whole idea, but everything fell together quickly with the help of many people."
Brandon and Laura felt compelled to help because of their love for Florida. Brandon lived in Homestead, Florida until age 12, and he and his wife own property in Port Charlotte. They were listening to a Florida Keys radio station online during the height of Hurricane Irma when the radio station suddenly went silent. "At that moment, we both looked at each other and knew we were going to do whatever we could to help as much as we could."
Soon they posted on Facebook that they were accepting donations bound for Florida. Within 24 hours, they received the water, 100 cans of food, and many clothes, toys, hygiene products, and books. Meanwhile, Brandon's supervisor, Brian Bingham, contacted Ben Braun about using a company survey truck to haul the donated goods to Florida. Ben contacted our insurance and vehicle leasing companies and the answer was yes. On September 13, Brandon and Laura rolled out of Bellefontaine. They traveled to Edgewater Methodist Church in Port Charlotte. That church coordinated delivery to LaBelle, Florida, a small community northwest of Naples that suffered much flood and wind damage.
Brandon gives a special thanks and shout out to Ben Braun and American Structurepoint for permitting the use of a company vehicle, as well as the Columbus employees who donated money to help pay for his gas and expenses.
Steve Albright's Story
Architectural Illustrator Steve Albright is an adult leader with Boy Scout Troup 233 from Greenfield, Indiana. The troop gathered food and clean-up supplies bound for Wharton and East Bernard, Texas. Both are extremely small towns southwest of Houston and relief often falls short for those communities because aid tends to go to larger cities like Houston. The troop members and their adult leaders loaded two large trucks on September 4 and 5, both very hot days, but no one complained. Steve says the experience made him realize how relatable events like this are. "We are a Boy Scout troop from a small town in Indiana that were trying to pull people together to help a small town in Texas," Steve says. You can easily imagine yourself in their position and it could be their Boy Scout Troop pulling people together to send supplies to Greenfield, Indiana. Thinking like that made us want to work harder and pull in more supplies for them." Another revelation came when Steve saw how connected we all are.  One of the adults troop leaders has a son who attends Texas A&M University. "It was late in the day on Monday, and we only had our second truck a quarter full. We thought that there was no way we would be able to fill it up. Right at the end of the day, a man in a van pulled up (he never did give us his name) that contained supplies from local Texas A&M grads. The van was full of supplies – enough to almost fill the truck."