Neither heat, nor high humidity, nor the threat of rain could put a damper on the Indianapolis office's Day of Service on July 20. This year, American Structurepoint took things outside – and framed a house in our parking lot! The day's Panel Build was in support of Greater Indy Habitat for Humanity.
Our volunteer effort began by sorting the materials and staging the parking lot under cloudy skies and hot and humid conditions.  After a brief introduction of the "Tiger Team" (veteran Habitat volunteers who directed the build activities), some information about Habitat for Humanity was shared by Events Manager Amy Donhardt. Next, Tammi, the future homeowner, was introduced and our company's $13,500 contribution was presented by President Rick Conner to Ted Mosey, Habitat's director of development.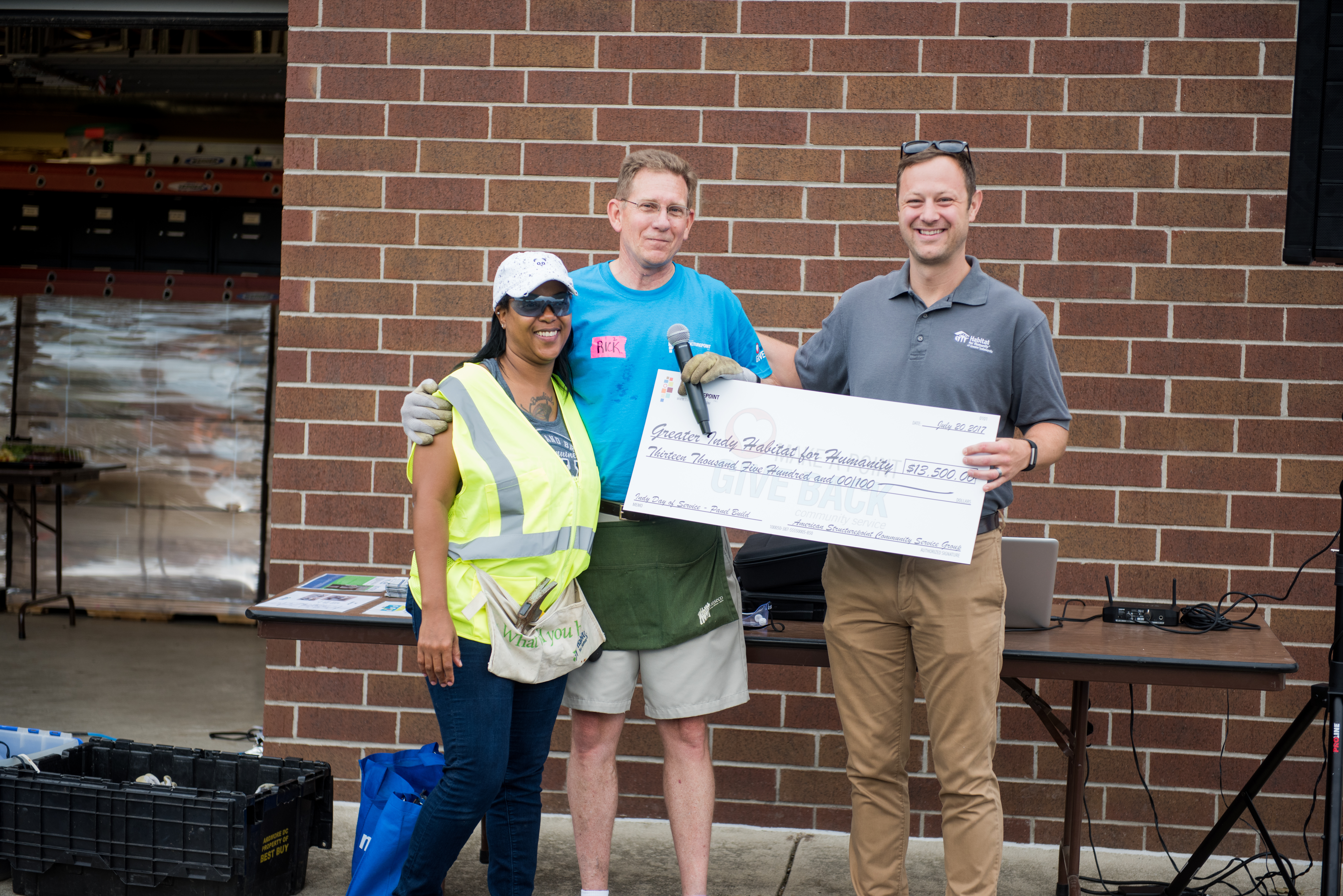 Then the work began in earnest! Virtually every group from our company was represented in our volunteer crew.  Our volunteers spent time laying out, hammering, and erecting the wall frames. Ted Bleicher (Planning Group), a "Nail Captain" tasked with leading and directing a team at one of the five build stations, thought, "It was challenging at first, but working together and doing everything as a team was fun and rewarding. It's definitely something I plan on doing again."
Many of the volunteers got to know future homeowner Tammi, who worked alongside us. Habitat homeowners are required to put in approximately 300 hours of sweat equity on their future home as well as other Habitat homes. Additionally, they learn home maintenance skills and are trained on managing personal finances so that they are better prepared to take on the responsibility of their mortgage.
With over 120+ volunteers, we were able to frame a three-bedroom house in under four hours! We finished just as the skies opened up and the rain began, so lunch was moved inside. Then, on Friday after the Chili Cookoff, our volunteers were able to disassemble the panels in just under an hour, preparing the panels to be transported to the Habitat warehouse, and eventually to the home site.
Considering we received feedback from the Habitat team that we were one of the best groups of volunteers they have ever worked with, you could say it was definitely a job well done! Rick Conner, who worked the first shift, said, "It's directly related to what we do – defining the built environment. And although we just donated to the organization and volunteered a few hours of our time, it meant the world to Tammi. This was a tremendous experience, and I hope we do it again."
We would be remiss if we did not give a BIG shout out and thanks to:
Scott Sumner and Tim Stanfield (Facilities Maintenance) for their extra effort Wednesday evening and again early Thursday morning setting up registration tables, running hoses and power cords, and filling coolers with water bottles.
Luke Kahren (Business Development) for providing energetic and fun music.
Lance Howard of Jason's Deli for donating fruit and pastries for breakfast; Lance even donned a Community Service T-shirt and worked the first shift.
Steve Keath of Donato's Pizza for donating a variety of pizzas for lunch. The volunteers definitely worked up an appetite!
And last but not least, each and every member of our staff who took time out of their busy schedules to participate in this Community Service activity.
To watch a time-lapse video of our Panel Build, click HERE. More photos are available here.
For more information on Greater Indy Habitat for Humanity, visit their website at indyhabitat.org.