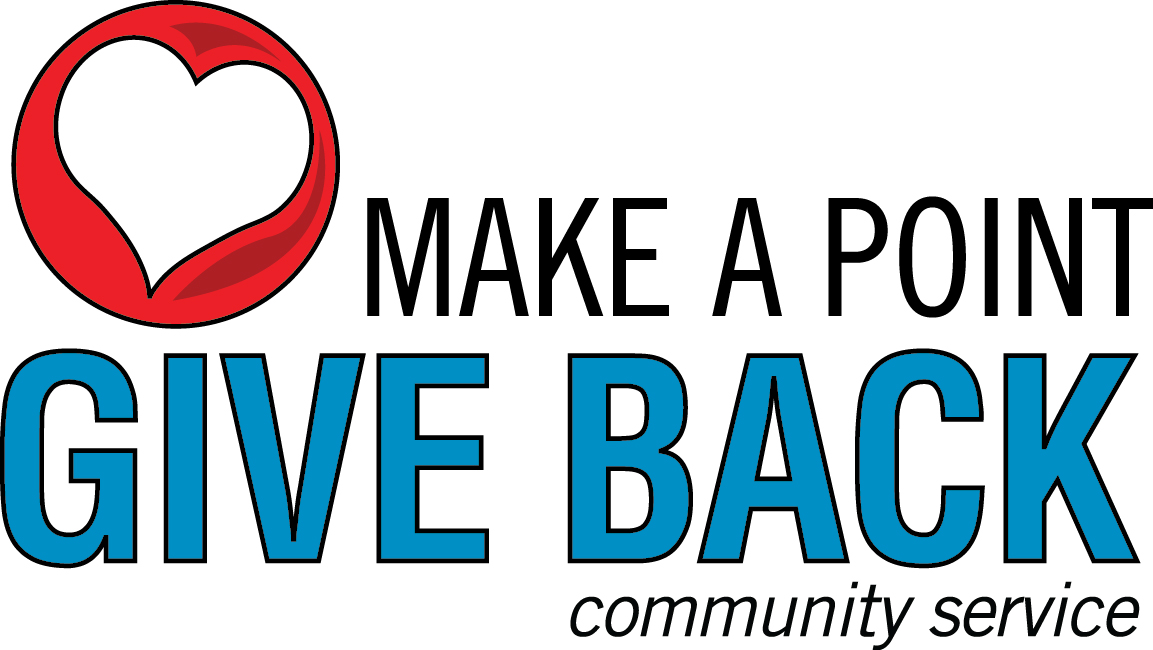 DREAM Alive Scholar Visit
We hosted 14 scholars from the DREAM Alive program at Arlington Middle School on May 24 to learn a little about A/E careers while trying their hands at a design and construction challenge. Brandon Farley and Brandon Hoopingarner led this event, challenging the students to build the highest tower they could in 20 minutes, using raw spaghetti, string, and tape, with the requirement that the tower support a marshmallow on top. Working in teams of two and three, and with limited support from American Structurepoint volunteers, the kids could earn extra points for participation by the whole team, as well as for avoiding certain locations of the site plans they were given (best they learn early not to put their buildings in wetlands or geotechnically unsound areas). After the towers were constructed and measured, the two Brandons talked about what kinds of processes in the design and construction phases had led to better results. Then everyone tried again with a second tower, this time with a bigger marshmallow.
Volunteer Sharon Payne was particularly proud of the team she "coached." They had the tallest tower in the first round (over 26"), and their second tower, while not the tallest, was enough to give them the all-around win, complete with a $5 cash prize for each team member. She noted that the key was getting the two more talkative, "take charge" kids to take time to listen to the ideas of their quieter, less assertive teammate: ideas that ultimately gave them the win.
Many thanks to Brandon Farley, Brandon Hoopingarner, and Anitra Lewis, the planners who've made this event a repeat-favorite with the DREAM Alive participants and staff. Thanks also to Dee Williams, Matt Nichols, Antra Henson, Sharon Payne, and Ted Bleicher for their assistance in running the event and in coaching and encouraging their teams. As Sharon noted, "My own children are grown now, but earlier in their lives, they all needed someone who wasn't their parent who could give them advice and support. I'm glad to have this opportunity to "pay it forward" with someone else's children, and to have a lot of fun doing it!"
Habitat for Humanity Panel Build – Save the Date!!
Our Habitat for Humanity Panel Build event is scheduled for July 20. A sign-up sheet will be posted in the next week or so. Be sure to sign up to spend an hour or two pounding nails in the main parking lot. Hammers will be provided – just bring your enthusiasm…plus any frustrations you may want to work out. The final structure will stay standing for the chili cookoff on July 21, so all our clients and friends will have a chance to admire your craftsmanship!
Back Pack Attack is Coming!
We just had Memorial Day, so it's time to attend graduations, wear white shoes, plan summer vacation trips, and…shop for school supplies??? Well, not quite yet, but soon. Look for Back Pack Attack bins to go up around the Indy offices at the end of June so we can collect school supplies for students whose families are unable to afford them. The company will provide a match for the value of all employee donations, as well.
Indy 500 Grid Winners
Big thanks to all those who made the Greatest Spectacle in Racing even greater by participating in the inaugural running of the Indy 500 Grid. Participants' names were drawn and matched randomly with starting positions. Jay Howard helped Joe Fragomeni win $150 for the Lupus Foundation of America Indiana Chapter by being the first driver out. With his third-place place finish, Ed Jones snagged $200 for Rachel Swanson's designated charity, the Wabash Inclusive Playground Construction Fund. This fund will be used to build a playground for children of all abilities in Wabash, Indiana. Helio Castroneves went above and beyond for Zach Wolf's chosen beneficiary, the Autism Society of Indiana, by capturing both the $150 prize for leading at the 250-mile mark AND the $300 prize for a second-place finish. And Takuma Sato took Jim Finnigan to the winner's circle, netting $400 for USO Indiana plus a $25 gift card for Jim. (The USO strengths America's military service members by keeping them connected to family, home, and country.) Sato did not, however, offer to share his milk.
Community Service at Other Places
Several employees have been busy giving back to the community by serving their professional organizations and good causes. Read on for the details.
Kaitlyn Barrett
Kaitlyn Barrett, along with the interior design group, worked to design this Frozen inspired chair as part of a fundraiser to benefit the St. Vincent House. The Interior Designers partnered with Momentum Textiles to create the glittery and festive-themed Eames rocker. All chairs were auctioned off, with our chair selling for $180! Barrett explains that she loved designing the chair and specifically chose Frozen to attract the younger audience.
The Frozen chair features a glittery turquoise pillow and shimmery draping to represent Elsa's dress, a long quilted braid to represent Elsa's blonde hair, and maintained the shiny white chair to represent the snow and ice within the 2013 Disney movie. The design was well-liked by the audience and even was featured on the news! Check out the clip here.
Eric Farny:
Colleen Merkel, Director of Member Services at ACEC Indiana, had outstanding reviews for Eric Farny, Road. She explains that Eric did an exceptional job as his role of ACEC Indiana Education Chair due to his leadership, initiative, confidence, and following through with what he says.
For Colleen to take the time to reach out to our executive to commend Eric for a job well-done shows just how great Eric truly is. The full email from Colleen is below.
"Cash and Greg,
I would like to recognize ACEC Indiana Education Chair Eric Farny for the exceptional work he did presenting at the National Engineers Week Volunteer Kick Off Luncheon and leading the committee this year.  I have worked with Eric as the staff liaison to the Education Committee, and I'm grateful to have a chair who takes initiative and follows through with action items.
One of the committee's main efforts is the National Engineers Week Student Outreach.  The Kickoff Luncheon we hosted gathered over 75 volunteers from ACEC, CEG, DPW and INDOT.  Eric not only covered all the topics provided to him by ACEC staff, but also included additional tips and his own flair to the presentation.  I truly appreciated his presence and confidence speaking before such a large crowd of his peers and clients.
In closing, I wish to share my gratitude to American Structurepoint for engaging so many employees in ACEC Indiana's committees and work.  Eric Farny is an outstanding addition to ACEC Indiana's membership and we hope to work with him again."
Karen Saavedra and Kaitlyn Bilodeau
The American Structurepoint staff is on a roll with helping the community! Karen Saavedra and Kaitlyn Bilodeau took part in the IWEA/INAWWA Young professionals community service event. The group helped Gift of Water build household water treatment systems for Haiti. To read more about the event, and see pictures of Karen and Kaitlyn in action, check out page 19 here.
Don Corson – Distinguished Member of the Year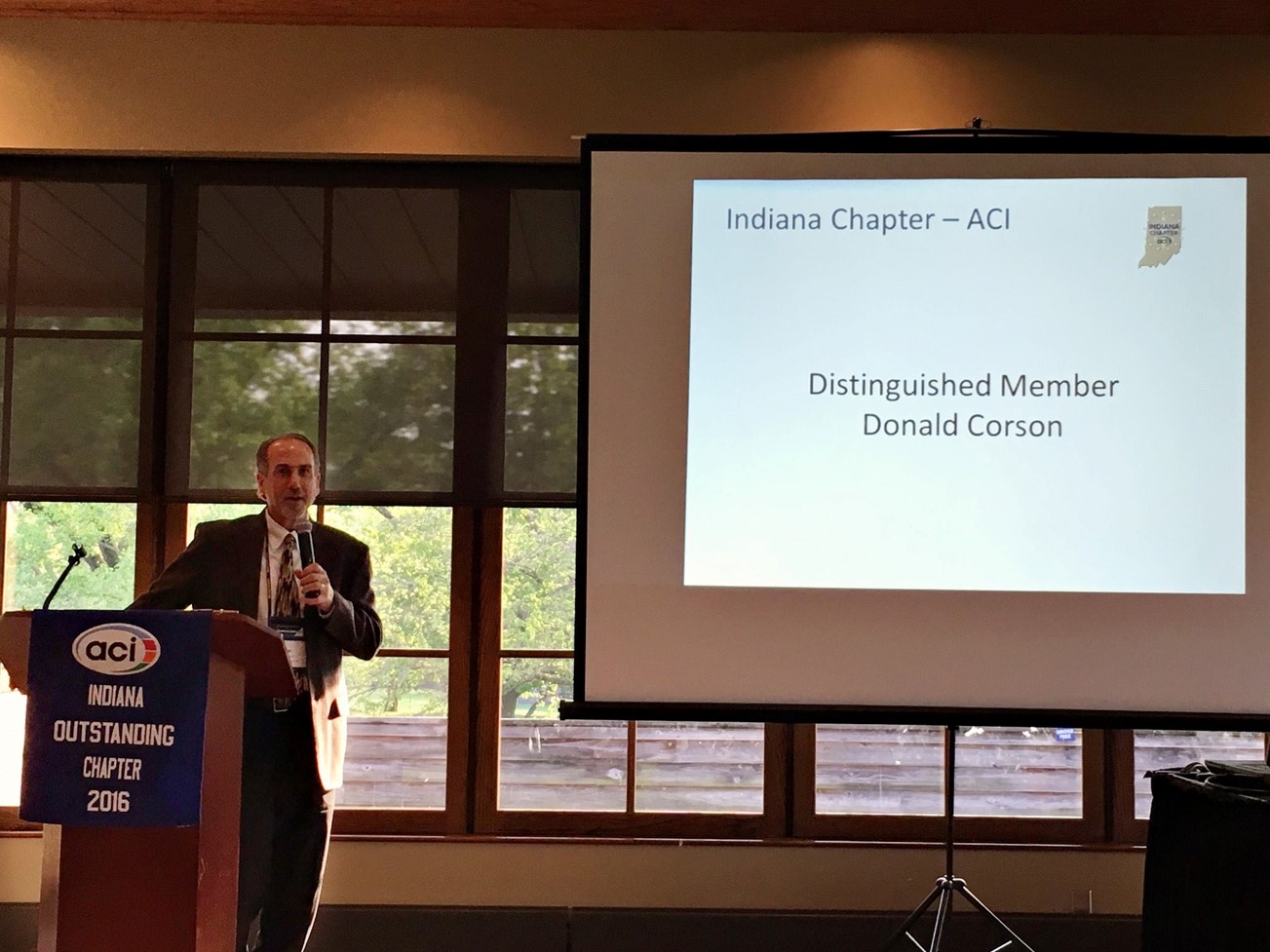 We were thrilled to hear the news that Structural Group Leader Don Corson received the Distinguished Member of the Year Award from the Indiana Chapter of the American Concrete Institute (IACI). This award recognizes the many years of service Don has given to the organization, including serving multiple terms as vice president and president of IACI, and in serving as chairperson of IACI committees. It also recognizes all he has done to further education and the technical practice of structural engineering in the state.
Don has shown time and time again that he is a thoughtful leader with a great passion for the practice of structural engineering. He is an excellent example of doing what it takes to give back to our profession, to mentor others, and to lend his expertise wherever and whenever it is needed. He has spent an extraordinary amount of time over his career developing talented young structural engineers, to pass on his knowledge to engineers at all levels of their careers, and in serving professional organizations like IACI. Congratulations Don on this well-deserved recognition.