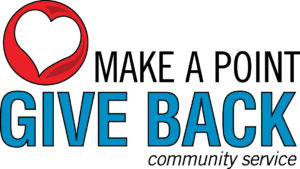 Huddle Up
Back by popular demand…come Huddle Up with the Community Service team on Friday, February 3 for some early Super Bowl "tailgating" and a chance to help us pick recipients to receive donations! Join us in the Grandview suite from noon to 1 p.m. to enjoy a lunch donated by our vendors and to buy chances in a "squares" game to match the score for each quarter of the Super Bowl. Tickets are $5 each. We will also give a free entry to anyone who signs up for our Habitat build day (limited to 10 volunteers) or who starts/increases a payroll deduction for the Community Service program. Each winner for the first three quarters gets to choose a charity to receive $200 from the Community Service team. The person who matches the final score gets to direct $400 in Community Service funds to the charity of their choice AND a $50 gift card to spend on themselves. It's a win-win for everyone involved!!!!
January Contributions
We made a $250 contribution to help support a mission trip by Josh Reeves (South Bend office) and his wife, Monica. Members of the Riverside Community Church will be travelling to Monterrey, Mexico, in June to assist with the day-to-day operations of an orphanage there. If you're interested in learning more about the mission or want to make a contribution of your own, you can visit their Go Fund Me page: https://www.gofundme.com/mojos-mexico-mission
Habitat Build Day
Thanks to everyone's end-of-year generosity, the Community Service team started 2017 with the ability to take on a project that we've been wanting to do for a while but was previously out of our price range. We're excited to offer interested volunteers the chance to work on a Habitat for Humanity build project! For those of you who aren't familiar with the organization, Habitat for Humanity (Habitat) provides impoverished families with the opportunity to purchase and own quality, affordable homes. In Indiana, the average hourly wage necessary to afford a 2-bedroom house is $14.03 – and 52 percent of Hoosier renters don't have adequate resources to purchase a house at market cost. Habitat helps fill that gap by building, rehabbing, and/or repairing homes using volunteer labor and donated land and materials, making the homes available for more affordable monthly mortgage payments of $350 to $450. Their homeowners put in 300 hours of "sweat equity," completing an education program and volunteering in the construction of various homes, including their own. This gives them the basic home repair skills and financial savvy necessary to make them successful homeowners.
That "volunteer labor and donations" part is where we come in! On Saturday, February 11, we need 10 to 12 volunteers to work from 7:45 a.m. to 2:30 p.m. to help paint the interior of a house near Garfield Park that's nearing completion. We will also be contributing $5,000, which covers the average costs of a day's worth of materials and other expenses associated with the build. If you are interested in volunteering, come to the Huddle Up event on Friday, February 3. (If you can't make the Huddle Up event, contact Marietta Griffith.)
The Community Service team is also gauging interest in sponsoring a panel build in late summer/early fall. This would involve 50-100 people working for 2-4 hours to build the wall panels needed for a Habitat home, potentially right here in our own Indy office parking lot – plus making a donation of $13,500. If you'd be interested in participating in such an event, be sure to let one of the committee members know.
Community Service at Other Places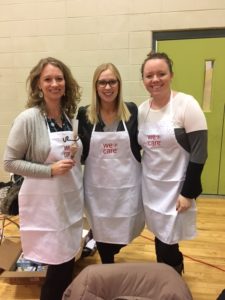 Kudos to Kaitlyn Barrett, Kathleen Day, and Erica Irvin of the Architecture + Interiors team for lending their creative flair to a holiday event sponsored by Officeworks at the Lilly Boys and Girls Club in Indianapolis. They helped children ages 5 to 13 create arts and crafts items as holiday gifts for their family and friends. Way to go ladies!