Food Drive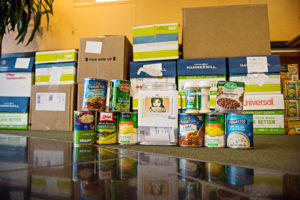 November's companywide food drive ended with approximately $420 in food and monetary donations brought in by employees. That amount will be matched and donated via check by the company to "The Sharing Place Food Pantry."All of the physical food donations, 15 boxes worth, will be donated to Gleaners Food Bank. Overall, the drive has generated approximately $840 worth of donations to fight hunger in Indy and surrounding communities.
A Very Merry Weekend
The festive weekend kicked off at 4:30pm on Friday December 2 with Happy Hour with Santa. Employees gathered in the 7260 lobby to enjoy food, drinks, and pictures with Santa and his elves. At the end of the night, raffle tickets were drawn for Colts tickets and a night at the Westin. Myra Day was the first lucky winner chosen and took home a free night at the Westin; Liz Kokosinski was drawn next winning Colts tickets and tailgate package!
Santa Claus made a very special trip all the way from the North Pole to visit all the good boys, girls, and a few four-legged friends at American Structurepoint on Saturday December 3. Mrs. Claus and a few elves were even present to help take photos and pass out cookies! From toy trains to slushy machines, the kids shared their Christmas wish lists with Santa.
Happy Photo Hour with Santa proceeds totaled $1,442.76 (chances sold plus elf tips)
Pictures with Santa proceeds totaled $401.00
Both amounts are matched by the company, so the combined Santa events with match amounts to $3,687.34
Special thanks to the following:
Luke Kahren – for donating the Colts tickets & tailgate package that were raffled
JW Marriott – for donating the hotel room, overnight parking and breakfast for two
Ken Olson, Liz Kokosinski, Adam Logeman & Josh Cribelar – appearing as Santa & his elves on Friday
Dennis & Maura Hutchinson – for appearing as Santa & Mrs. Claus on Saturday
Krista Lawson – for photography on both Friday & Saturday!
And thank you for all who helped with set-up and teardown and of course for attending the events!
Save the Dates for these Holiday Activities
December 9 – Raffle Mania, 11:30 a.m. to 2 p.m. Raffle items and holiday treats in Grandview.