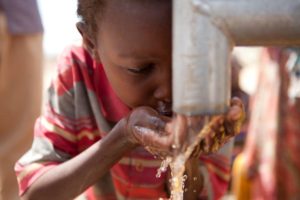 Seth Maxwell, a 28-year-old Hoosier native who now leads the world's largest youth water organization, visited American Structurepoint's Indianapolis office October 21 to share updates about Thirst Project's mission to provide safe, clean water to all of Swaziland by 2022. Here are 5 quick facts you need to know.
If properly maintained, Thirst Project water wells should last 40+ years.
The need is great. An estimated 663 million people worldwide lack access to clean drinking water. A child dies of water-related diseases every 21 seconds. This equates to 4,100 children under the age of 5 who die every day from water-borne illnesses such as cholera and dysentery.
Besides an intense focus in Swaziland, Thirst Project also works in India, Uganda, Ethiopia, El Salvador, Kenya, and Colombia.
In 7 years, Thirst Project has raised $8 million and completed 1,982 water well projects in 13 different countries.
American Structurepoint is a strong Thirst Project supporter, funding 4 water wells in Swaziland so far. You can also set up your own fundraising social media page by visiting mythirstproject.org.