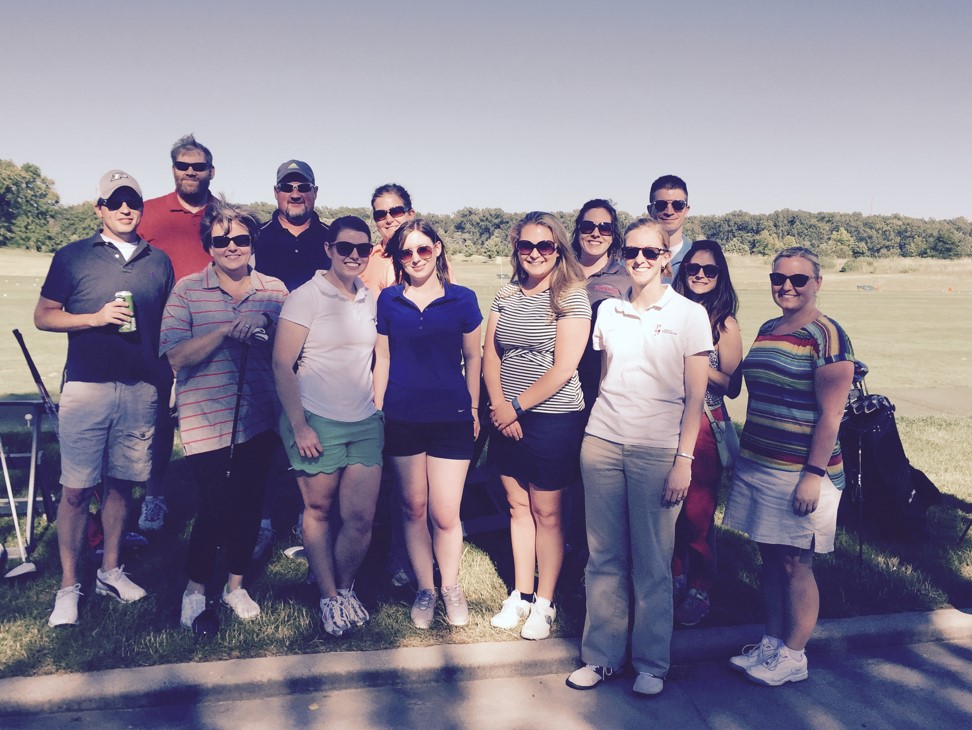 In the photo from the June 21 session are from left to right: Jess Pounds (Investigative), Tony Rench (Civil), Marietta Griffith (Utility Infrastructure), Joe Griffith (Utility Infrastructure), Kelsey Morton (Road), Jen Goins (HNTB), Kaitlyn Bilodeau (Utility Infrastructure), Brittany Heidenreich (Civil), Amanda Johnson (Road), Karen Saavedra (Utility Infrastructure), Spencer Moon (Utility Infrastructure), Katie Decker (Parsons), and Hollliston Huhn (Parsons).
Over the last few weeks, Indianapolis staff had the opportunity to participate in a series of four golf workshops after work at Prairie View Golf Club in Carmel. American Structurepoint covered half of the cost of each session as an incentive to encourage all staff members to feel comfortable on the golf course during outings and after work with clients. Advancing Women coordinated the sessions that were open to all staff as well as clients.
The first two workshops in May focused on putting and chipping. The last two workshops in June focused on full swings at the driving range, just in time for the annual company outing on June 25.  Approximately 17 staff members, invited clients, and peer industry professionals participated in each workshop that was co-led by golf professional Patrick Dodson and LPGA teaching professional Jamie Haywood.  Each session included an hour of instruction and an adult beverage. Twelve participants completed all 4 sessions and were rewarded with a free sleeve of balls, range balls, and a 9-hole round of golf at Prairie View. Here are a few comments from participants.
It was so great to learn some basic golfing techniques and get to hang out with others in the company whom I do not talk to often! I learned a ton and feel like I won't embarrass myself quite as much on the golf course now. – Amanda Johnson, Road Group, Civil Group
I've golfed on and off for 20+ years, and Patrick helped me correct several of my long-time hitting mistakes. It was definitely worth the time and money. Easy-to-learn techniques, no-stress approach and a fun group of people made this well worth the time. – Tony Rench
It was fun and informative. The best part was getting to know coworkers who I didn't know very well. –Joe Griffith, Environmental Group
It was a great way to prepare for the Structurepoint golf outing! – Liz Kokosinski, Bridge Group