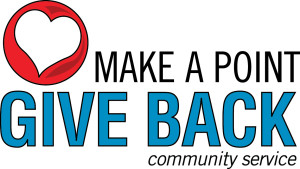 April 10 through 16 was declared National Volunteer Week this year, and American Structurepoint employees helped lead the charge.
The Columbus office kicked things off a little early with a trip to Mid-Ohio Food Bank on April 8.  Our team of 18 employees split into two groups, with one sorting donated food and the second packing supplemental food boxes for seniors alongside another group of volunteers from Bath and Body. We packed 711 boxes, representing 711 weeks of food for the food bank's clients. We were so into the work, they had to cut us off at the end! The group also got together to present a $500 donation, which the food bank will turn into 2,000 meals.
On April 14, it was the Indianapolis crew's turn, with a visit to Gleaners Food Bank. Approximately 50 volunteers split into two, 2-hour shifts to sort through donations. Altogether, we processed 18,125 pounds of donated items, separating the usable from the trash, and then sorting the "keepers" into categories. Those donations are the equivalent of over 15,000 meals. It was truly eye opening to see what is donated (primarily by grocery stores and pharmacies), and what can and can't be used. We sorted canned goods, grocery items, and many nonfood items, everything from mascara to diapers to compression socks. Sadly, we had to throw away any over-the-counter medication. At the crossover between shifts, we gathered for a group picture and donated $500.
Our volunteers all had a great time, and we definitely won't be waiting for next year's official National Volunteer Week to lend our time and talents to our communities. If you weren't able to attend these events, there will be other opportunities throughout the year to support all kinds of organizations. Stay tuned for details!